Concrete solutions
30th January 2014
Page 28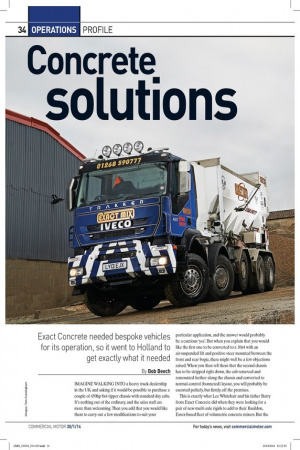 Page 29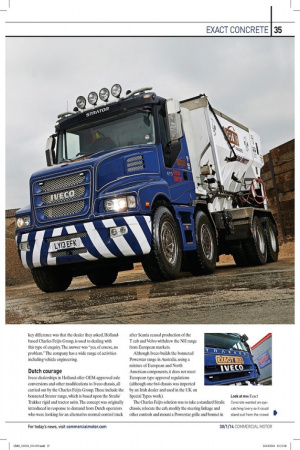 Page 30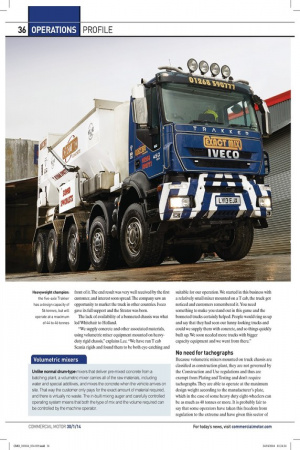 Page 31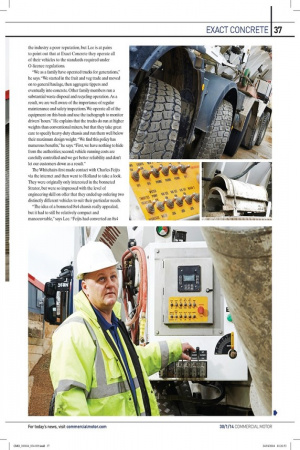 Page 32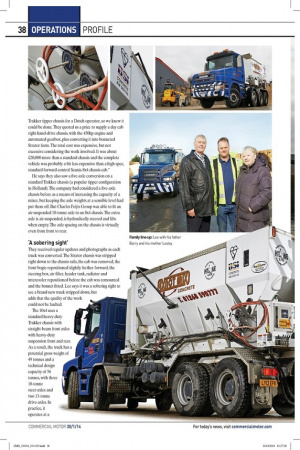 Page 33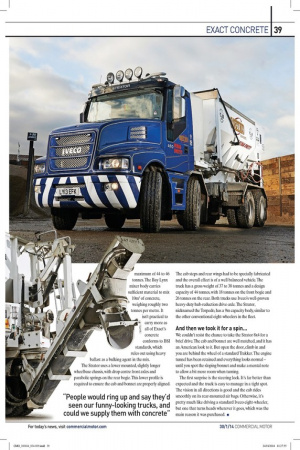 Page 28, 30th January 2014 —
Concrete solutions
Close
Exact Concrete needed bespoke vehicles for its operation, so it went to Holland to get exactly what it needed By Bob Beech IMAGINE WALKING INTO a heavy truck dealership in the UK and asking if it would be possible to purchase a couple of 450hp 8x4 tipper chassis with standard day cabs. It's nothing out of the ordinary and the sales staff are more than welcoming. Then you add that you would like them to carry out a few modifications to suit your
particular application, and the answer would probably be a cautious 'yes'. But when you explain that you would like the first one to be converted to a 10x4 with an air-suspended lift and positive-steer mounted between the front and rear bogie, there might well be a few objections raised. When you then tell them that the second chassis has to be stripped right down, the cab removed and remounted further along the chassis and converted to normal-control (bonneted) layout, you will probably be escorted politely, but firmly, off the premises. This is exactly what Lee Whitehair and his father Barry from Exact Concrete did when they were looking for a pair of new multi-axle rigids to add to their Basildon, Essex-based fleet of volumetric concrete mixers. But the
key difference was that the dealer they asked, Hollandbased Charles Feijts Group, is used to dealing with this type of enquiry. The answer was "yes, of course, no problem." The company has a wide range of activities including vehicle engineering.
Dutch courage
Iveco dealerships in Holland offer OEM-approved axle conversions and other modifications to Iveco chassis, all carried out by the Charles Feijts Group. These include the bonneted Strator range, which is based upon the Stralis/ Trakker rigid and tractor units. The concept was originally introduced in response to demand from Dutch operators who were looking for an alternative normal-control truck after Scania ceased production of the
T cab and Volvo withdrew the NH range from European markets.
Although Iveco builds the bonneted Powerstar range in Australia, using a mixture of European and North American components, it does not meet European type approval regulations (although one 6x4 chassis was imported by an Irish dealer and used in the UK on Special Types work). The Charles Feijts solution was to take a standard Stralis chassis, relocate the cab, modify the steering linkage and other controls and mount a Powerstar grille and bonnet in
front of it. The end result was very well received by the first customer, and interest soon spread. The company saw an opportunity to market the truck in other countries. Iveco gave its full support and the Strator was born.
The lack of availability of a bonneted chassis was what led Whitehair to Holland. "We supply concrete and other associated materials, using volumetric mixer equipment mounted on heavyduty rigid chassis," explains Lee. "We have run T cab Scania rigids and found them to be both eye-catching and
suitable for our operation. We started in this business with a relatively small mixer mounted on a T cab, the truck got noticed and customers remembered it. You need something to make you stand out in this game and the bonneted trucks certainly helped. People would ring us up and say that they had seen our funny-looking trucks and could we supply them with concrete, and so things quickly built up. We soon needed more trucks with bigger capacity equipment and we went from there."
Volumetric mixers
Unlike normal drum-type mixers that deliver pre-mixed concrete from a batching plant, a volumetric mixer carries all of the raw materials, including water and special additives, and mixes the concrete when the vehicle arrives on site. That way the customer only pays for the exact amount of material required, and there is virtually no waste. The in-built mixing auger and carefully controlled operating system means that both the type of mix and the volume required can be controlled by the machine operator. No need for tachographs Because volumetric mixers mounted on truck chassis are classified as construction plant, they are not governed by the Construction and Use regulations and thus are exempt from Plating and Testing and don't require tachographs. They are able to operate at the maximum design weight according to the manufacturer's plate, which in the case of some heavy duty eight-wheelers can be as much as 40 tonnes or more. It is probably fair to say that some operators have taken this freedom from regulation to the extreme and have given this sector of
the industry a poor reputation, but Lee is at pains to point out that at Exact Concrete they operate all of their vehicles to the standards required under 0-licence regulations.
"We as a family have operated trucks for generations," he says. "We started in the fruit and veg trade and moved on to general haulage, then aggregate tippers and eventually into concrete. Other family members run a substantial waste disposal and recycling operation. As a result, we are well aware of the importance of regular maintenance and safety inspections. We operate all of the equipment on this basis and use the tachograph to monitor drivers' hours." He explains that the trucks do run at higher weights than conventional mixers, but that they take great care to specify heavy-duty chassis and run them well below their maximum design weight. "We find this policy has numerous benefits," he says. "First, we have nothing to hide from the authorities; second, vehicle running costs are carefully controlled and we get better reliability and don't let our customers down as a result."
The Whitehairs first made contact with Charles Feijts via the intemet and then went to Holland to take a look. They were originally only interested in the bonneted Strator, but were so impressed with the level of engineering skill on offer that they ended up ordering two distinctly different vehicles to suit their particular needs. "The idea of a bonneted 8x4 chassis really appealed, but it had to still be relatively compact and manoeuvrable," says Lee. "Feijts had converted an 8x4
Trakker tipper chassis for a Dutch operator, so we knew it could be done. They quoted us a price to supply a day cab right-hand-drive chassis, with the 450hp engine and automated gearbox, plus converting it into bonneted Strator form. The total cost was expensive, but not excessive considering the work involved. It was about £20,000 more than a standard chassis and the complete vehicle was probably a bit less expensive than a high-spec, standard forward-control Scania 8x4 chassis cab."
He says they also saw a five-axle conversion on a standard Trakker chassis (a popular tipper configuration in Holland). The company had considered a five-axle chassis before as a means of increasing the capacity of a mixer, but keeping the axle weights at a sensible level had put them off. But Charles Feijts Group was able to fit an air-suspended 10-tonne axle to an 8x4 chassis. The extra axle is air-suspended, is hydraulically steered and lifts when empty. The axle spacing on the chassis is virtually even from front to rear.
'A sobering sight'
They received regular updates and photographs as each truck was converted. The Strator chassis was stripped right down to the chassis rails, the cab was removed, the front bogie repositioned slightly further forward, the steering box, air filter, header tank, radiator and intercooler repositioned before the cab was remounted and the bonnet fitted. Lee says it was a sobering sight to see a brand-new truck stripped down, but adds that the quality of the work
could not be faulted. The 10x4 uses a standard heavy-duty Trakker chassis with straight-beam front axles with heavy-duty suspension front and rear. As a result, the truck has a potential gross weight of 49 tonnes and a technical design capacity of 56 tonnes, with three 10-tonne steer-axles and two 13-tonne drive-axles. In practice, it operates at a maximum of 44 to 46 tonnes. The Bay Lynx mixer body carries sufficient material to mix 10m3 of concrete, weighing roughly two tonnes per metre. It isn't practical to carry more as all of Exact's concrete conforms to BSI standards, which rules out using heavy out ballast as a bulking agent in the mix
The Strator uses a lower mounted, slightly longer wheelbase chassis, with drop centre front axles and parabolic springs on the rear bogie. This lower profile is required to ensure the cab and bonnet are properly aligned.
The cab steps and rear wings had to be specially fabricated and the overall effect is of a well balanced vehicle. The truck has a gross weight of 37 to 38 tonnes and a design capacity of 44 tonnes, with 18 tonnes on the front bogie and 26 tonnes on the rear. Both trucks use Iveco's well-proven heavy-duty hub-reduction drive-axle. The Strator, nicknamed the Torpedo, has a 9m capacity body, similar to the other conventional eight-wheelers in the fleet.
And then we took it for a spin...
We couldn't resist the chance to take the Strator 8x4 for a brief drive. The cab and bonnet are well matched, and it has an American look to it. But open the door, climb in and you are behind the wheel of a standard llakker.The engine tunnel has been retained and everything looks normal — until you spot the sloping bonnet and make a mental note to allow a bit more room when turning. The first surprise is the steering lock. It's far better than expected and the truck is easy to manage in a tight spot. The vision in all directions is good and the cab rides smoothly on its rear-mounted air bags. Otherwise, it's pretty much like driving a standard Iveco eight-wheeler, but one that turns heads wherever it goes, which was the main reason it was purchased. •