Number of trucks stopped by DVSA drops by 20%
30th January 2014
Page 3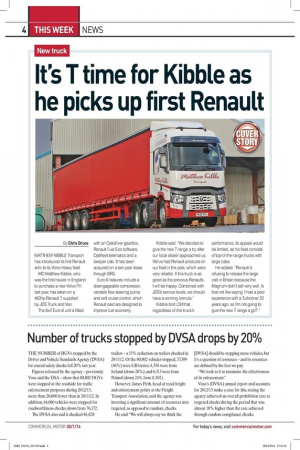 Page 3, 30th January 2014 —
Number of trucks stopped by DVSA drops by 20%
Close
THE NUMBER of HGVs stopped by the Driver and Vehicle Standards Agency (DVSA) for crucial safety checks fell 20% last year.
Figures released by the agency — previously Vosa and the DSA — show that 80,802 HGVs were stopped at the roadside for traffic enforcement purposes during 2012/13, more than 20,000 fewer than in 2011/12. In addition, 64,060 vehicles were stopped for roadworthiness checks; down from 76,172. The DVSA also said it checked 46,828
trailers — a 15% reduction on trailers checked in 2011/12. Of the 80,802 vehicles stopped, 37389 (46%) were GB lorries; 4,356 were from Ireland (down 28%); and 6,313 were from Poland (down 24% from 8,302).
However, James Firth, head of road freight and enforcement policy at the Freight Transport Association, said the agency was investing a significant amount of resources into targeted, as opposed to random, checks. He said: "We will always say we think the
[DVSA] should be stopping more vehicles, but it's a question of resources — and its resources are defined by the fees we pay.
"We look to it to maximise the effectiveness of its enforcement."
Vosa's (DVSA) annual report and accounts for 2012/13 make a case for this, stating the agency achieved an overall prohibition rate at targeted checks during the period that was almost 18% higher than the rate achieved through random compliance checks.