It's T time for Kibble as he picks up first Renault
30th January 2014
Page 3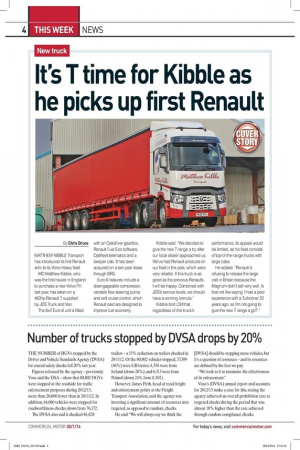 Page 3, 30th January 2014 —
It's T time for Kibble as he picks up first Renault
Close
By Chris Druce
MATTHEW KIBBLE Transport has introduced its first Renault artic to its Volvo-heavy fleet.
MD Matthew Kibble, who was the first haulier in England to purchase a new Volvo FH last year, has taken on a 460hp Renault T supplied by JDS Truck and Van. The 6x2 Euro-6 unit is fitted
with an Optidriver gearbox, Renault Fuel Eco software, Optifleet telematics and a sleeper cab. It has been acquired on a two-year lease through BRS.
Euro-6 features include a disengageable compressor, variable flow steering pump and soft cruise control, which Renault said are designed to improve fuel economy.
Kibble said: "We decided to give the new T range a try after our local dealer approached us. We've had Renault products on our fleet in the past, which were very reliable. If this truck is as good as the previous Renaults, I will be happy. Combined with JDS's service levels, we should have a winning formula." Kibble told CM that regardless of the truck's
performance, its appeal would be limited, as his fleet consists of top-of-the-range trucks with large cabs.
He added: "Renault is refusing to release the large cab in Britain because the Magnum didn't sell very well. Is that not like saying 'I had a poor experience with a Turboliner 20 years ago, so I'm not going to give the new T range a go?'."