Getting on the boat
30th January 2014
Page 25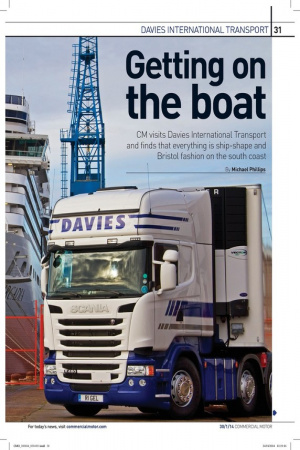 Page 26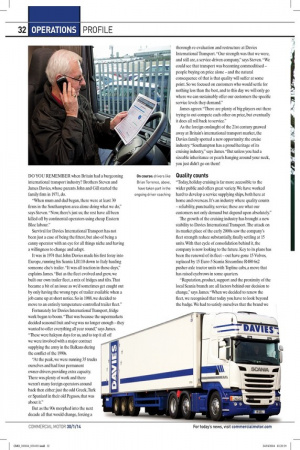 Page 27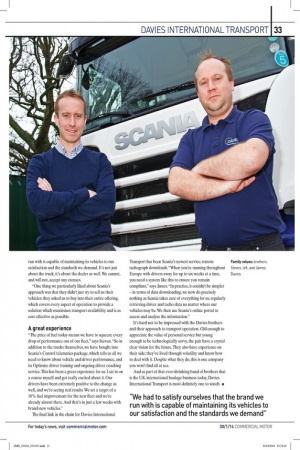 Page 25, 30th January 2014 —
Getting on the boat
Close
CM visits Davies International Transport and finds that everything is ship-shape and Bristol fashion on the south coast By Michael Phillips
DO YOU REMEMBER when Britain had a burgeoning international transport industry? Brothers Steven and James Davies, whose parents John and Gill started the family firm in 1971, do.
"When mum and dad began, there were at least 30 firms in the Southampton area alone doing what we do," says Steven. "Now, there's just us; the rest have all been killed off by continental operators using cheap Eastern Bloc labour."
Survival for Davies International Transport has not been just a case of being the fittest, but also of being a canny operator with an eye for all things niche and having a willingness to change and adapt.
It was in 1974 that John Davies made his first foray into Europe, running his Scania LB110 down to Italy hauling someone else's trailer. "It was all traction in those days," explains James. "But as the fleet evolved and grew, we built our own trailer fleet, a mix of fridges and tilts. That became a bit of an issue as we'd sometimes get caught out by only having the wrong type of trailer available when a job came up at short notice. So in 1988, we decided to move to an entirely temperature-controlled trailer fleet."
Fortunately for Davies International Transport, fridge work began to boom. "That was because the supermarkets decided seasonal fruit and veg was no longer enough — they wanted to offer everything all year round," says James. "These were halcyon days for us, and to top it all off we were involved with a major contract supplying the army in the Balkans during the conflict of the 1990s.
"At the peak, we were running 35 trucks ourselves and had four permanent owner-drivers providing extra capacity. There was plenty of work and there weren't many foreign operators around back then either; just the odd Greek, Turk or Spaniard in their old Pegasos, that was about it." But as the 90s morphed into the next decade all that would change, forcing a
thorough re-evaluation and restructure at Davies International Transport. "Our strength was that we were, and still are, a service-driven company," says Steven. "We could see that transport was becoming commoditised — people buying on price alone — and the natural consequence of that is that quality will suffer at some point. So we focused on customers who would settle for nothing less than the best, and to this day we will only go where we can sustainably offer our customers the specific service levels they demand."
James agrees: "There are plenty of big players out there trying to out-compete each other on price, but eventually it does all roll back to service."
As the foreign onslaught of the 21st century gnawed away at Britain's international transport market, the Davies family spotted a new opportunity: the cruise industry. "Southampton has a proud heritage of its cruising industry," says James. "But unless you had a sizeable inheritance or pearls hanging around your neck, you just didn't go on them!
Quality counts
"Today, holiday cruising is far more accessible to the wider public and offers great variety. We have worked hard to develop a service supplying ships, both here at home and overseas. It's an industry where quality counts — reliability, punctuality, service; these are what our customers not only demand but depend upon absolutely."
The growth of the cruising industry has brought a new stability to Davies International Transport. The attack on its market place of the early 2000s saw the company's fleet strength reduce substantially, finally settling at 15 units. With that cycle of consolidation behind it, the company is now looking to the future. Key to its plans has been the renewal of its fleet — out have gone 15 Volvos, replaced by 15 Euro-5 Scania Streamline R480 6x2 pusher-axle tractor units with Topline cabs, a move that has raised eyebrows in some quarters. "Reputation, product, support and the proximity of the local Scania branch are all factors behind our decision to change," says James. "When we decided to renew the fleet, we recognised that today yon have to look beyond the badge. We had to satisfy ourselves that the brand we
run with is capable of maintaining its vehicles to our satisfaction and the standards we demand. It's not just about the truck, it's about the dealer as well. We cannot, and will not, accept any excuses.
"One thing we particularly liked about Scania's approach was that they didn't just try to sell us their vehicles; they asked us to buy into their entire offering, which covers every aspect of operation to provide a solution which maximises transport availability and is as cost-effective as possible.
A great experience
"The price of fuel today means we have to squeeze every drop of performance out of our fleet," says Steven. "So in addition to the trucks themselves, we have bought into Scania's Control telematics package, which tells us all we need to know about vehicle and driver performance, and its Optimise driver training and ongoing driver coaching service. This has been a great experience for us. I sat in on a course myself and got really excited about it. Our drivers have been extremely positive to the change as well, and we're seeing real results. We set a target of a 10% fuel improvement for the new fleet and we're already almost there. And that's in just a few weeks with brand-new vehicles." The final link in the chain for Davies International
Transport has been Scania's newest service; remote tachograph downloads. "When you're running throughout Europe with drivers away for up to six weeks at a time, you need a system like this to ensure you remain compliant," says James. "In practice, it couldn't be simpler — in terms of data downloading, we now do precisely nothing as Scania takes care of everything for us, regularly retrieving driver and tacho data no matter where our vehicles may be. We then use Scania's online portal to access and analyse the information."
It's hard not to be impressed with the Davies brothers and their approach to transport operation. Old enough to appreciate the value of personal service but young enough to be technologically savvy, the pair have a crystal clear vision for the future. They also have experience on their side; they've lived through volatility and know how to deal with it. Despite what they do, this is one company you won't find all at sea. And as part of that ever-shrinking band of brothers that is the UK international haulage business today, Davies International Transport is most definitely one to watch. •