Moving freely
30th January 2014
Page 20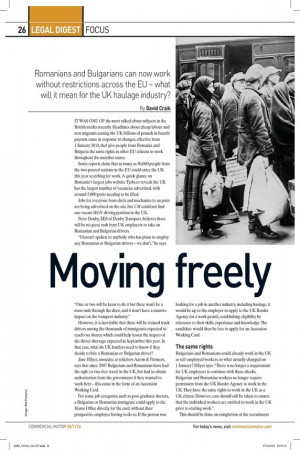 Page 21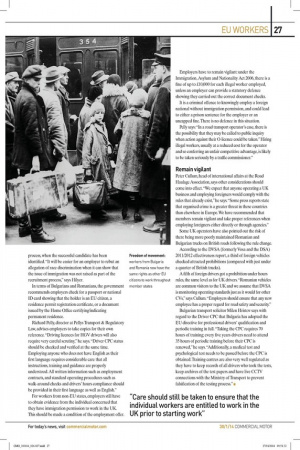 Page 20, 30th January 2014 —
Moving freely
Close
Romanians and Bulgarians can now work without restrictions across the EU what will it mean for the UK haulage industry? By David Craik
IT WAS ONE OF the most talked about subjects in the British media recently. Headlines about cheap labour and new migrants costing the UK billions of pounds in benefit payouts came in response to changes, effective from 1 January 2014, that give people from Romania and Bulgaria the same rights as other EU citizens to work throughout the member states.
Some reports claim that as many as 50,000 people from the two poorest nations in the EU could enter the UK this year searching for work. A quick glance on Romania's largest jobs website Tjobs.ro reveals the UK has the largest number of vacancies advertised, with around 5,000 posts needing to be filled.
Jobs for everyone from chefs and mechanics to au pairs are being advertised on the site, but CM could not find one vacant HGV driving position in the UK.
Peter Denby, MD of Denby Transport, believes there will be no great rush from UK employers to take on Romanian and Bulgarian drivers.
"I haven't spoken to anybody who has plans to employ any Romanian or Bulgarian drivers — we don't," he says.
"One or two will be keen to do it but there won't be a mass rush through the door, and it won't have a massive impact on the transport industry."
However, it is inevitable that there will be trained truck drivers among the thousands of immigrants expected to reach our shores, which could help lessen the impact of the driver shortage expected in September this year. In that case, what do UK hauliers need to know if they decide to hire a Romanian or Bulgarian driver?
Jane Hilyer, associate at solicitors Aaron & Partners, says that since 2007 Bulgarians and Romanians have had the right to visa-free travel in the UK, but had to obtain authorisation from the government if they wanted to work here — this came in the form of an Accession Working Card. For some job categories, such as post-graduate doctors, a Bulgarian or Romanian immigrant could apply to the Home Office directly for the card, without their prospective employer having to do so. If the person was
looking for a job in another industry, including haulage, it would be up to the employer to apply to the UK Border Agency for a work permit, establishing eligibility by reference to their skills, experience and knowledge. The candidate would then be free to apply for an Accession Working Card.
The same rights
Bulgarians and Romanians could already work in the UK as self-employed workers, so what actually changed on 1 January? Hilyer says: "There is no longer a requirement for UK employers to continue with these checks. Bulgarian and Romanian workers no longer require permission from the UK Border Agency to work in the UK. They have the same rights to work in the UK as a UK citizen. However, care should still be taken to ensure that the individual workers are entitled to work in the UK prior to starting work." This should be done on completion of the recruitment
process, when the successful candidate has been identified. "It will be easier for an employer to rebut an allegation of race discrimination when it can show that the issue of immigration was not raised as part of the recruitment process," says Hilyer.
In terms of Bulgarians and Romanians, the government recommends employers check for a passport or national ID card showing that the holder is an EU citizen, a residence permit registration certificate, or a document issued by the Home Office certifying/indicating permanent residence.
Richard Petty, director at Pellys Transport & Regulatory Law, advises employers to take copies for their own reference. "Driving licences for HGV drivers will also require very careful scrutiny," he says. "Driver CPC status should be checked and verified at the same time. Employing anyone who does not have English as their first language requires considerable care that all instructions, training and guidance are properly understood. All written information such as employment contracts, and standard operating procedures such as walk-around checks and drivers' hours compliance should be provided in their first language as well as English."
For workers from non-EU states, employers still have to obtain evidence from the individual concerned that they have immigration permission to work in the UK. This should be made a condition of the employment offer.
Employers have to remain vigilant: under the Immigration, Asylum and Nationality Act 2006, there is a fine of up to £10,000 for each illegal worker employed, unless an employer can provide a statutory defence showing they carried out the correct document checks.
It is a criminal offence to knowingly employ a foreign national without immigration permission, and could lead to either a prison sentence for the employer or an uncapped fine. There is no defence in this situation.
Petty says: "In a road transport operator's case, there is the possibility that they may be called to public inquiry when action against their 0-licence could be taken." Hiring illegal workers, usually at a reduced cost for the operator and so conferring an unfair competitive advantage, is likely to be taken seriously by a traffic commissioner."
Remain vigilant
Peter Cullum, head of international affairs at the Road Haulage Association, says other considerations should come into effect. "We expect that anyone operating a UK business and employing foreigners would comply with the rules that already exist," he says. "Some press reports state that organised crime is a greater threat in these countries than elsewhere in Europe. We have recommended that members remain vigilant and take proper references when employing foreigners either directly or through agencies."
Some UK operators have also pointed out the risk of there being more poorly maintained Romanian and Bulgarian trucks on British roads following the rule change. According to the DVSA (formerly Vosa and the DSA) 2011/2012 effectiveness report, a third of foreign vehicles checked attracted prohibitions (compared with just under
a quarter of British trucks). A fifth of foreign drivers got a prohibition under hours rules, the same level as for UK drivers. "Romanian vehicles
are common visitors to the UK and we assume that DVSA is monitoring operating standards just as it would for other CVs," says Cullum. "Employers should ensure that any new employee has a proper regard for road safety and security." Bulgarian transport solicitor Milen Hristov says with regard to the Driver CPC that Bulgaria has adopted the EU directive for professional drivers' qualification and periodic training in full. "Taking the CPC requires 70 hours of training; every five years drivers need to attend 35 hours of periodic training before their CPC is renewed," he says. "Additionally, a medical test and psychological test needs to be passed before the CPC is obtained. Training centres are also very well regulated as they have to keep records of all drivers who took the tests, keep archives of the test papers and have live CCTV connections with the Ministry of Transport to prevent falsification of the testing process." •