gold digger
30th January 2014
Page 15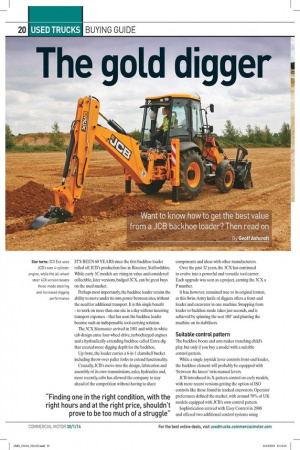 Page 16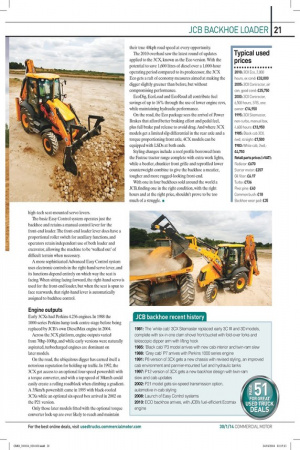 Page 15, 30th January 2014 —
gold digger
Close
Want to know how to get the best value from a JCB backhoe loader? Then read on By Geoff Ashcroft Star turns: 3CX Eco uses JCB's own 4-cylinder engine, white the att-wheet steer 40X version boasts three-mode steering and increased digging performance
IT'S BEEN 60 YEARS since the first backhoe loader rolled off JCB's production line in Rocester, Staffordshire. While early 3C models are rising in value and considered collectible, later versions, badged 3CX, can be great buys on the used market.
Perhaps most importantly, the backhoe loader retains the ability to move under its own power between sites, without the need for additional transport. It is this single benefit — to work on more than one site in a day without incurring transport expenses — that has seen the backhoe loader become such an indispensable tool-carrying solution.
The 3CX Sitemaster arrived in 1981 and with its white cab design came four-wheel drive, turbocharged engines and a hydraulically-extending backhoe called Extra-dig that created more digging depth for the backhoe.
Up front, the loader carries a 6-in-1 clamshell bucket including throw-over pallet forks to extend functionality. Crucially, JCB's move into the design, fabrication and assembly of its own transmissions, axles, hydraulics and, more recently, cabs has allowed the company to stay ahead of the competition without having to share
components and ideas with other manufacturers.
Over the past 32 years, the 3CX has continued to evolve into a powerful and versatile tool carrier. Each upgrade was seen as a project, earning the 3CX a P number.
It has, however, remained true to its original format, as this Swiss Army knife of diggers offers a front-end loader and excavator in one machine. Swapping from loader to backhoe mode takes just seconds, and is achieved by spinning the seat 180° and planting the machine on its stabilisers.
Suitable control pattern
The backhoe boom and arm makes trenching child's play, but only if you buy a model with a suitable
control pattern.
While a single joystick lever controls front-end loader, the backhoe element will probably be equipped with 'between the knees' twin manual levers.
JCB introduced its X-pattern control on early models, with more recent versions getting the option of ISO controls like those found in tracked excavators. Operator preferences defined the market, with around 70% of UK models equipped with JCB's own control pattern. Sophistication arrived with Easy Control in 2008 and offered two additional control systems using
high-tech seat-mounted servo levers.
The basic Easy Control system operates just the backhoe and retains a manual control lever for the front-end loader. The front-end loader lever does have a proportional roller switch for auxiliary functions, and operators retain independent use of both loader and excavator, allowing the machine to be 'walked out' of difficult terrain when necessary.
A more sophisticated Advanced Easy Control system uses electronic controls in the right-hand servo lever, and its functions depend entirely on which way the seat is facing. When sitting facing forward, the right-hand servo is used for the front-end loader, but when the seat is spun to face rearwards, that right-hand lever is automatically assigned to backhoe control.
Engine outputs
Early 3CXs had Perkins 4.236 engines. In 1988 the 1000-series Perkins lump took centre-stage before being replaced by JCB's own DieselMax engine in 2004.
Across the 3CX platform, engine outputs varied from 70hp-100hp, and while early versions were naturally aspirated, turbocharged engines are dominant on later models.
On the road, the ubiquitous digger has earned itself a notorious reputation for holding up traffic. In 1992, the 3CX got access to an optional four-speed powershift with a torque converter, and with a top speed of 30km/h could easily create a rolling roadblock when climbing a gradient. A 35km/h powershift came in 1995 with black-roofed 3CXs while an optional six-speed box arrived in 2002 on the P21 version. Only those later models fitted with the optional torque converter lock-up are ever likely to reach and maintain
their true 40kph road speed at every opportunity.
The 2010 overhaul saw the latest round of updates applied to the 3CX, known as the Eco version. With the potential to save 1,600 litres of diesel over a 1,000-hour operating period compared to its predecessor, the 3CX Eco gets a raft of economy measures aimed at making the digger slightly greener than before, but without compromising performance.
EcoDig, EcoLoad and EcoRoad all contribute fuel savings of up to 16% through the use of lower engine revs, while maintaining hydraulic performance.
On the road, the Eco package sees the arrival of Power Brakes that afford better braking effort and pedal feel, plus full brake pad release to avoid drag. And where 3CX models get a limited slip differential in the rear axle and a torque proportioning front axle, 4CX models can be equipped with LSDs at both ends.
Styling changes include a roof profile borrowed from the Fastrac tractor range complete with extra work lights, while a beefier, chunkier front grille and reprofiled lower counterweight combine to give the backhoe a meatier, tougher and more rugged-looking front-end. With one in four backhoes sold around the world a JCB, finding one in the right condition, with the right hours and at the right price, shouldn't prove to be too much of a struggle. •
Typical used prices
2010: 3CX Eco, 2,000 hours, ex cond: £32,000 2005: 3CX Contractor, air con, good cond: £25,750 2000: 3CX Contractor, 6,500 hours, SRS, one owner: £14,950 1995: 3CX Sitemaster, non-turbo, manual box, 4,600 hours: £13,950 1985: Black cab 3CX, 4wd, straight: £7,500 1983: White cab, 2wd,: £4,750 Retail parts prices (+VAT]: Radiator: £670 Starter motor: £257 Oil filter: £6.17 Turbo: £736 Pivot pins: £40 Common bush: £18 Backhoe wear pad: £35
JCB backhoe recent history
1981: The 'white cab' 3CX Sitemaster replaced early 30 III and 3D models, complete with six-in-one clam shovel front bucket with fold-over forks and telescopic dipper arm with lifting hook 1985: 'Black cab' P3 model arrives with new cab interior and twin-ram slew 1988: 'Grey cab' P7 arrives with Perkins 1000 series engine 1991: P8 version of 3CX gets a new chassis with revised styling, an improved cab environment and pannier-mounted fuel and hydraulic tanks 1997: P12 version of 3CX gets a new backhoe design with twin-ram slew and cab updates 2002: P21 model gets six-speed transmission option, automotive in-cab styling 2008: Launch of Easy Control systems 2010: ECO backhoe arrives, with JCB's fuel-efficient Ecomax engine