Laurie Dealer: ATF agents need flexible hours
30th January 2014
Page 14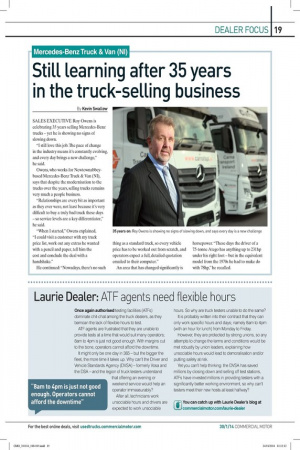 Page 14, 30th January 2014 —
Laurie Dealer: ATF agents need flexible hours
Close
Once again authorised testing facilities (ATFs) dominate chit-chat among the truck dealers, as they bemoan the lack of flexible hours to test.
ATF agents are frustrated that they are unable to provide tests at a time that would suit many operators; 8am to 4pm is just not good enough. With margins cut to the bone, operators cannot afford the downtime. It might only be one day in 365— but the bigger the fleet, the more time it takes up. Why can't the Driver and Vehicle Standards Agency (DVSA)— formerly Vosa and the DSA — and the legion of truck testers understand
that offering an evening or weekend service would help an operator immeasurably? After all, technicians work unsociable hours and drivers are expected to work unsociable
hours. So why are truck testers unable to do the same?
It is probably written into their contract that they can only work specific hours and days; namely 8am to 4pm (with an hour for lunch) from Monday to Friday.
However, they are protected by strong unions, so any attempts to change the terms and conditions would be met robustly by union leaders, explaining how unsociable hours would lead to demoralisation and/or putting safety at risk.
Yet you can't help thinking: the DVSA has saved millions by closing down and selling off test stations, ATFs have invested millions in providing testers with a significantly better working environment, so why can't testers meet their new hosts at least halfway?