A waste of everyone's time
30th January 2014
Page 12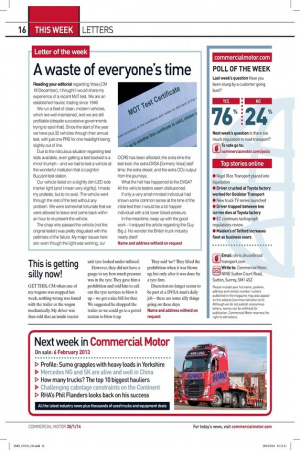 Page 12, 30th January 2014 —
A waste of everyone's time
Close
Reading your editorial regarding Vosa (CM 19 December), I thought I would share my experience of a recent MoT test. We are an established haulier, trading since 1946.
We run a fleet of clean, modern vehicles, which are well-maintained, and we are still profitable (despite successive governments trying to spoil that). Since the start of the year we have put 32 vehicles through their annual test, with just one PRS for one headlight being slightly out of line.
Due to the ridiculous situation regarding test slots available, even getting a test booked is a minor triumph — and we had to test a vehicle at the wonderful institution that is Leighton Buzzard test station.
Our vehicle failed on a slightly dim LED side marker light (and I mean very slightly). I made my protests, but to no avail. The vehicle went through the rest of the test without any problem. We were somewhat fortunate that we were allowed to leave and come back within an hour to re-present the vehicle. The chap who passed the vehicle (not the original tester) was pretty disgusted with the pettiness of the failure. My major issues here are: even though the light was working, our
OCRS has been affected; the extra time the test took; the extra DVSA [formerly Vosa] staff time; the extra diesel; and the extra CO2 output from the journeys.
What the hell has happened to the DVSA? All the vehicle testers seem disillusioned.
If only a very small-minded individual had shown some common sense at the time of the initial test then I would be a lot happier individual with a lot lower blood-pressure.
In the meantime, keep up with the good work — I enjoyed the article regarding the Guy Big J. No wonder the British truck industry nearly died! Name and address witheld on request