A SMALL ALL-WEATHER CHAR-A-BANCS.
30th January 1923
Page 25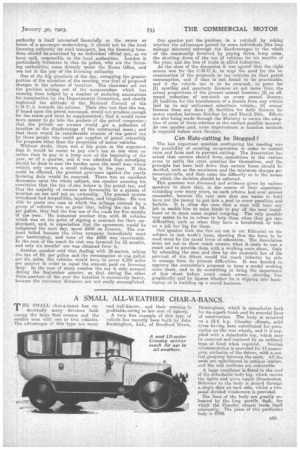 Page 25, 30th January 1923 —
A SMALL ALL-WEATHER CHAR-A-BANCS.
Close
T HE SMALL char-a-banes has rm
. doubtedly many devotees both among the large fleet owners and the smaller men with one or two vehicles. The advantages of this type are many
and well-known, and their running is profitable owing to low cost of upkeep.
A very fine example of this type of vehicle has recently been built by John Buckingham, Ltd., of Bradford. Street,
Birmingham, which is remarkable both for its-superb finish and its graceful lines of construction. The body is mounted on a 19.6 hp. Crossley chassis, solid tyres having been substituted for pneumatics on the rear wheels, and it is supplied with a detachable top, which may be removed and replaced by an ordinary type of hood when required. Seating accommodation is provided for 13 passengers, exclusive of the driver, with a central gangway between the seats. All the seats are upholstered in antique leather, and the seat cushions are removable.
A large ventilator is fitted in the roof of the detachable body top, which carries the lights and gives ample illumination. Entrance to the body is gained through a, single door on each Side, whilst a two panel divided windscreen is provided.
The lines of the body are greatly enhanced by the long scuttle dash, for which the Crossley chassislends itself admirably. The price of this particular body is B250.