Dennis Bros. results exceed expectations
30th December 1966
Page 48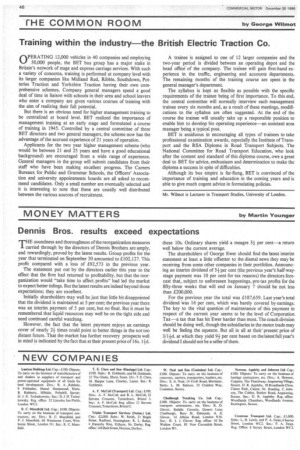 Page 48, 30th December 1966 —
Dennis Bros. results exceed expectations
Close
THE soundness and thoroughness of the reorganization measures carried through by the directors of Dennis Brothers are amply, and rewardingly, proved by the latest results. Group profits for the year that terminated on September 30 amounted to £.102,127. This profit compared with a loss of £92,573 in the previous year.
The statement put out by the directors earlier this year to the effect that the firm had returned to profitability, but that the reorganization would "take time to affect profits" had led the market to expect better tidings. But the latest results are indeed beyond those expectations; they are excellent.
Initially shareholders may well be just that little bit disappointed that the dividend is maintained at 5 per cent; the previous year there was an interim payment of 5 per cent, but no final. But it must be remembered that liquid resources may well be on the tight side and need continued careful watching.
However, the fact that the latest payment enjoys an earnings cover of nearly 2+ times could point to better things in the not too distant future. That the market has further recovery prospects well in mind is indicated by the fact that at their present price of 16s. 14-d. these 10s. Ordinary shares yield a meagre 3+ per cent—a return well below the current average.
The shareholders of George Ewer should find the latest interim statement at least a little offsetter to the dismal news they may be receiving from some other companies in their portfolios. Announcing an interim dividend of 51 per cent (the previous year's half-waystage payment was 10 per cent for tax reasons) the directors forecast that, subject to unforeseen happenings, pre-tax profits for the fifty-three weeks that will end on January 7 should be not less than £200,000.
For the previous year the total was £187,659. Last year's total dividend was 16 per cent, which was barely covered by earnings. The key to the vital question of maintenance of this payment in respect of the current year seems to be the level of Corporation Tax—a tax that has hit Ewer harder than most. The coach division should be doing well, though the subsidiaries in the motor trade may well be feeling the squeeze. But all in all at their' present price of 3/14-d. at which they yield 94per cent based on the latest full year's dividend I should not be a seller of them.