Larne in step
30th December 1966
Page 42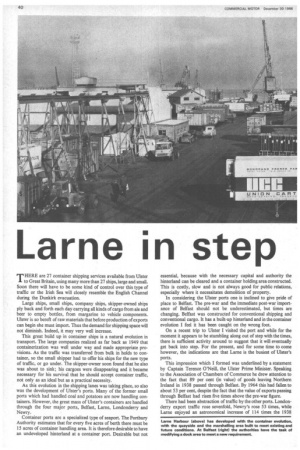 Page 44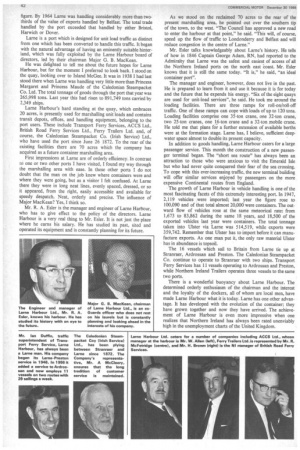 Page 42, 30th December 1966 —
Larne in step
Close
THERE are 27 container shipping services available from Ulster to Great Britain, using many more than 27 ships, large and small. Soon there will have to be some kind of control over this type of traffic or the Irish Sea will closely resemble the English Channel during the Dunkirk evacuation.
Large ships, small ships, company ships, skipper-owned ships ply back and forth each day carrying all kinds of cargo from ale and beer to empty bottles, from margarine to vehicle components. Ulster is so bereft of raw materials that before production of exports can begin she must import. Thus the demand for shipping space will not diminish. Indeed, it may very well increase.
This great build up in container ships is a natural evolution in transport. The large companies realized as far back as 1949 that containerization was well under way and made appropriate provisions. As the traffic was transferred from bulk in holds to container, so the small shipper had to offer his ships for the new type of traffic, or go under. The skipper-owner soon found that he also was about to sink; his cargoes were disappearing and it became necessary for his survival that he should accept container traffic, not only as an ideal but as a practical necessity.
As this evolution in the shipping lanes was taking place, so also was the development of Ulster's ports. Many of the former small ports which had handled coal and potatoes are now handling containers. However, the great mass of Ulster's containers are handled through the four major ports, Belfast, Lame, Londonderry and Newry.
Container ports are a specialized type of seaport. The Portbury Authority estimates that for every five acres of berth there must be 15 acres of container handling area. It is therefore desirable to have an undeveloped hinterland at a container port. Desirable but not essential, because with the necessary capital and authority the hinterland can be cleared and a container holding area constructed. This is costly, slow and is not always good for public relations, especially where it necessitates demolition of property.
In considering the Ulster ports one is inclined to give pride of place to Belfast. The pre-war and the immediate post-war importance of Belfast should not be underestimated, but times are changing. Belfast was constructed for conventional shipping and conventional cargo. It has a built-up hinterland and in the container evolution I feel it has been caught on the wrong foot.
On a recent trip to Ulster I visited the port and while for the moment it appears to be stumbling along out of step with the times, there is sufficient activity around to suggest that it will eventually get back into step. For the present, and for some time to come however, the indications are that Lame is the busiest of Ulster's ports.
This impression which I formed was underlined by a statement by Captain Terence O'Neill, the Ulster Prime Minister. Speaking to the Association of Chambers of Commerce he drew attention to the fact that 89 per cent (in value) of goods leaving Northern Ireland in 1938 passed through Belfast. By 1964 this had fallen to about 53 per cent, despite the fact that the value of exports passing through Belfast had risen five times above the pre-war figure.
There had been abstraction of traffic by the other ports. Londonderry export traffic rose sevenfold, Newry's rose 53 times, while Larne enjoyed an astronomical increase of 114 times the 1938 figure. By 1964 Lame was handling considerably more than twothirds of the value of exports handled by Belfast. The total trade handled by the port exceeded that handled by either Bristol, Harwich or Dover.
Larne is a port which is designed for unit load traffic as distinct from one which has been converted to handle this traffic. It began with the natural advantage of having an eminently suitable hinterland, which was fully exploited by the Larne Harbour board of directors, led by their chairman Major G. B. MacKean.
He was delighted to tell me about the future hopes for Larne Harbour, but for the moment I preferred to look back. I stood on the quay, looking over to Island McGee. It was in 1938 I had last stood there when Lame was handling very little more than Princess Margaret and Princess Maude of the Caledonian Steampacket Co. Ltd. The total tonnage of goods through the port that year was 265,998 tons. Last year this had risen to 891,749 tons carried by 2,349 ships.
Lame Harbour's hard standing at the quay, which embraces 20 acres, is presently used for marshalling unit loads and contains transit depots, offices, and handling equipment, belonging to the port users. These include Transport Ferry Services, ACCS Ltd., British Road Ferry Services Ltd., Ferry Trailers Ltd. and, of course, the Caledonian Steampacket Co. (Irish Service) Ltd., who have used the port since June 26 1872. To the rear of the existing facilities there are 70 acres which the company has acquired as a future container marshalling area.
First impressions at Lame are of orderly efficiency. In contrast to one or two other ports I have visited, I found my way through the marshalling area with ease. In these other ports I do not doubt that the man on the job knew where containers were and where they were going, but as a visitor I felt confused. At Lame there they were in long neat lines, evenly spaced, dressed, or so it appeared, from the right, easily accessible and available for speedy despatch. Neat, orderly and precise. The influence of Major MacKean? Yes, I think so.
Mr. R. A. Esler is the manager and engineer of Lame Harbour, who has to give effect to the policy of the directors. Larne Harbour is a very real thing to Mr. Esler. It is not just the place where he earns his salary. He has studied its past, sited and operated its equipment and is constantly planning for its future. As we stood on the reclaimed 70 acres to the rear of the present marshalling area, he pointed out over the southern tip of the town, to the west. "The Council has approved a new road to enter the harbour at that point," he said. "This will, of course, speed up the flow of traffic to Londonderry and Belfast and will reduce congestion in the centre of Larne."
Mr. Ester talks knowledgeably about Larne's history. He tells of how in 1846 Captain George Adam, RN, had reported to the Admiralty that Lame was the safest and easiest of access of all the Northern Ireland ports on the north east Coast. Mr. Esler knows that it is still the same today. "It is," he said, "an ideal container port".
The manager and engineer, however, does not live in the past. He is prepared to learn from it and use it because it is for today and the future that he expends his energy. "Six of the eight quays are used for unit-load services", he said. He took me around the loading facilities. There are three ramps for roll-on/roll-off traffic. One of these ramps can cope with loads of up to 120 tons. Loading facilities comprise one 35-ton crane, one 32-ton crane, two 25-ton cranes, one lb-ton crane and a 32-ton mobile crane. He told me that plans for a further extension of available berths were at the formation stage. Lame has, I believe, sufficient deepwater space almost to double its present capacity.
In addition to goods handling, Lame Harbour caters for a large passenger service. This month the construction of a new passenger terminal began. The "short sea route" has always been an attraction to those who were anxious to visit the Emerald Isle but who had never quite conquered their fear of the sea crossing. To cope with this ever-increasing traffic, the new terminal building will offer similar services enjoyed by passengers on the more expensive Continental routes from England.
• The growth of Lame Harbour in vehicle handling is one of the most fascinating facets of this extremely interesting port. In 1947, 2,119 vehicles were imported; last year the figure rose to 100,090 and of that total almost 20,000 were containers. The outward flow of vehicles rose at the same meteorical rate: from 1,673 to 83,862 during the same 18 years, and 18,500 of the exported vehicles last year were containers. The total tonnage taken into Ulster via Lame was 514,519, while exports were 359,742. Remember that Ulster has to import before it can manufacture exports. As one man put it, the only raw material Ulster has in abundance is topsoil.
The 16 vessels which sail to Britain from Larne tie up at Stranraer, Ardrossan and Preston. The Caledonian Steampacket Co. continue to operate to Stranraer with two ships. Transport Ferry Services has 11 vessels operating to Ardrossan and Preston, while Northern Ireland Trailers operates three vessels to the same two ports.
There is a wonderful buoyancy about Lame Harbour. The determined orderly enthusiasm of the chairman and the interest and the loyalty of the dockers, all of whom are local men, have made Lame Harbour what it is today. Lame has one other advantage. It has developed with the evolution of the container; they have grown together and now they have arrived. The achievement of Lame Harbour is even more impressive when one realizes that Northern Ireland has always been rated unenviably high in the unemployment charts of the United Kingdom.