Bulk haulage boom in SA
30th December 1966
Page 30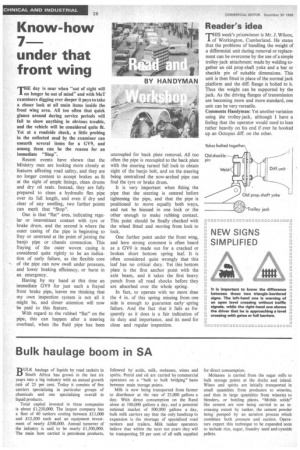 Page 30, 30th December 1966 —
Bulk haulage boom in SA
Close
BULK haulage of liquids by road tankers in South Africa has grown in the last six years into a big industry with an annual growth rate of 25 per cent. Today it consists of five carriers specializing in particular groups of chemicals and one specializing overall in liquid products.
Total capital invested in these companies is about £1.250,000. The largest company has a fleet of 40 tankers costing between £11,000 and £12,500 each and an equipment investment of nearly £500,000. Annual turnover of the industry is said to be nearly £1,500,000. The main item carried is petroleum products, followed by acids, milk, molasses, wines and spirits. Petrol and oil are carried by commercial operators on a "bulk to bulk bridging" basis between main storage points.
Milk is now being transported from farmer to distributor at the rate of 25,000 gallons a day. With direct consumption on the Rand alone at 100,000 gallons a day, and a potential national market of 500,000 gallons a day, bulk milk carriers say that the only handicap to expansion is the shortage Of specialized road tankers and trailers. Milk tanker operators believe that within the next ten years they will be transporting 50 per cent of all milk supplied for direct consumption.
Molasses is carried from the sugar mills to bulk storage points at the docks and inland. Wines and spirits are initially transported in small quantities from producers to wineries, and then in large quantities from wineries to blenders, or bottling plants. "Mobile solids" like cement are now being carried to an increasing extent by tanker, the cement powder being pumped by an aeration process which combines both pressure and suction. Operators expect this technique to be expanded soon to include rice, sugar, foundry sand and cyanide pellets.