Haulier earned £40,000 a year from coal loads
30th December 1966
Page 27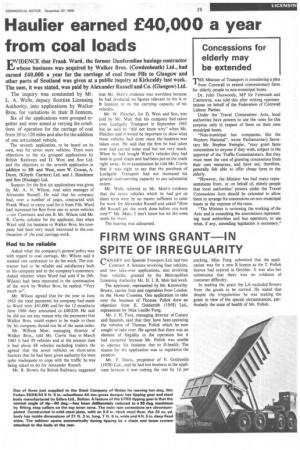 Page 27, 30th December 1966 —
Haulier earned £40,000 a year from coal loads
Close
1GIVIDENCE that Frank Ward, the former Dunfermline haulage contractor 1.1.1 whose business was acquired by Walker Bros. (Cowdenbeath) Ltd., had earned 140,000 a year for the carriage of coal from Fife to Glasgow and other parts of Scotland was given at a public inquiry at Kirkcaldy last week. The sum, it was stated, was paid by Alexander Russell and Co. (Glasgow) Ltd.
The inquiry was conducted by Mr. L. A. Wells, deputy Scottish Licensing Authority, into applications by Walker Bros. for variations in their B licences.
Six of the applications were grouped together and were aimed at varying the conditions of operation for the carriage of coal from 50 to 120 miles and also for the addition of one articulated vehicle.
The seventh application, to be heard on its own, was for seven more vehicles. There were objections to the six grouped applications by British Railways and D. West and Son Ltd. and the objectors to the seventh application in addition to BR and West, were W. Cowan, A. Dunn, (Kilsyth Carriers) Ltd. and J. Hutchison and Son (Haulage) Ltd.
Support for the first six applications was given by Mr. A. N. Wilson, coal sales manager of Alexander Russell. He said that his company had, over a nunibei of years, contracted with Frank Ward to carry coal for it from Fife. Ward had increased his fleet from one to seven vehicles —six Contracts and one B. Mr. Wilson told Mr. R. Currie, solicitor for the applicant, that when Ward sold his business to Walker Bros. his company had been very much interested in the continuation of the coal carriage work.
Had to be reliable
Asked what the company's general policy was with regard to coal carriage, Mr. Wilson said it wanted one contractor to do the work. The contractor had to be reliable and satisfactory both to his company and to the company's customers. Asked whether when Ward had sold if he (Mr. Wilson) had been interested in the continuation of the work by Walker Bros, he replied: "Very much so".
Mr. Wilson agreed that for the year to June 1965 the total payments his company had made to Ward were £41,000 and for the 12 months to June 1966 they amounted to £40,830. He said he did not see any reason why the payments that Walker Bros. could expect to be made to them by his company should not be of the same order.
Mr. William Muir, managing director of Walker Bros., told Mr. Currie that in March 1965 it had 49 vehicles and at the present time it had about 68 vehicles excluding trailers. He agreed that the seven vehicles on short-term licences that he had been given authority for were quite inadequate to cope with the traffic he was being asked to do for Alexander Russell.
Mr. R. Brown, for British Railways, suggested that Mr. Muir's evidence was worthless because he had produced no figures relevant to his A or B licences or to the carrying capacity of his vehicles.
Mr. W. Fletcher, for D. West and Son, was told by Mr. Muir that his company had taken over Lochgelly Transport in September 1965 but he said he "did not know why" when Mr. Fletcher said it would be important to show what these vehicles had done since the business was taken over. He said that the firm he had taken over had carried some coal but not very much. When he had bought Ward's vehicles they had been in good shape and had been put on the roads right away. In re examination he told Mr. Currie that it was right to say that the purchase of Lochgelly Transport had not increased his general coal-carrying capacity to any substantial extent.
Mr. Wells referred to Mr. Muir's evidence that the seven vehicles which he had got on short term were by no means sufficient to cater for work for Alexander Russell and asked "How did Russell get the work done before you took over?Mr. Muir: I don't know but we did some work for them.
The hearing was adjourned.