FIRM WINS GRANT-IN SPITE OF IRREGULARITY
30th December 1966
Page 27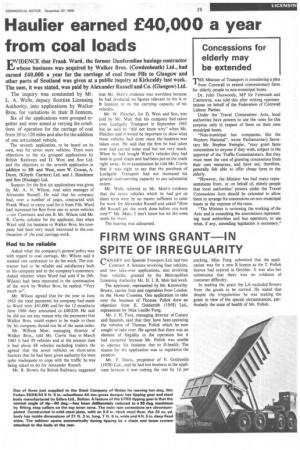 Page 27, 30th December 1966 —
FIRM WINS GRANT-IN SPITE OF IRREGULARITY
Close
CANARY and Spanish Transport Ltd. had two CANARY A licences involving four vehicles, arid two take-over applications, also involving four vehicles, granted by the Metropolitan Licensing Authority Mr. D. I. R. Muir last week.
The applicant, represented by Mr. Kenworthy Brown, carries fruit and vegetables from London to the Home Counties. One application to take over the business of Thomas Pollok drew an objection from E. Goldsmith (1958) Ltd., represented by Miss Lucille Fung.
Mr. J. H. Foot, managing director of Canary and Spanish, said that they have been operating the vehicles of Thomas Pollak which he now sought to take over. He agreed that there was an element of illegality in the operation but it had occurred because Mr. Pollok was unable to operate his business due to ill-health. The reason for the application was to regularize the position.
Mr. F. Davis, proprietor of E. Goldsmith (1958) Ltd., said he had lost business to the applicant because it was cutting the rate by Id. per
packing. Miss Fung submitted that the application was for a new B licence as the T. Pollok licence had expired in October. It was also her submission that there was no evidence of customer difficulty.
In making the grant the LA excluded flowers from the goods to be carried. He stated that despite the irregularities he was making the grant in view of the special circumstances, particularly the state of health of Mr. Pollok.