Concessions for elderly may be extended
30th December 1966
Page 27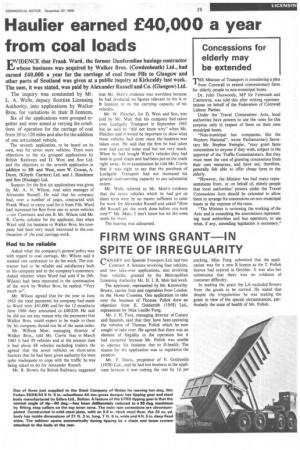 Page 27, 30th December 1966 —
Concessions for elderly may be extended
Close
THE Minister of Transport is considering a plea from Cornwall to extend concessionary fares for elderly people to non-municipal buses.
Dr. John Dunwoody, MP for Falmouth and Camborne, was told this after making representations on behalf of the Federation of Cornwall Labour Parties.
Under the Travel Concessions Acts, local authorities have powers to use the rates for this purpose only in respect of fares on their own municipal buses. "Non-municipal bus companies, like the Western National", wrote Parliamentary Secretary Mr. Stephen Swingler, "may grant fares concessions to anyone if they wish, subject to the approval of the Traffic Commissioners. But they must meet the cost of granting concessions from their own resources, and have not, therefore, generally felt able to offer cheap fares to the elderly. "However, the Minister has had many representations from, or on behalf of, elderly people that local authorities' powers under the Travel Concessions Acts should be extended to allow them to arrange for concessions on non-municipal buses at the expense of the rates.
"The Minister is reviewing the working of the Acts and is consulting the associations representing local authorities and bus operators, to see what, if any, amending legislation is necessary."