Profit for strike-hit EYMS, but
30th December 1966
Page 23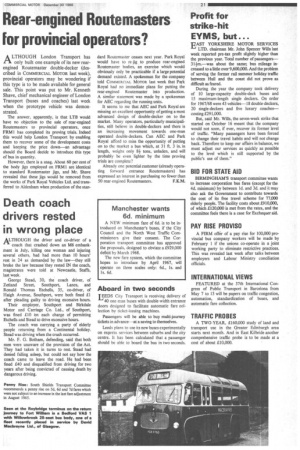 Page 23, 30th December 1966 —
Profit for strike-hit EYMS, but
Close
pAsT YORKSHIRE MOTOR SERVICES
LTD. chairman Mr. John Spencer Wills last week reported pre-tax profit slightly higher than the previous year. Total number of passengers31+m.—was about the same; bus mileage increased to a little over 9,600,000. And the problem of serving the former rail summer holiday traffic between Hull and the coast did not prove as difficult as feared.
During the year the company took delivery of 10 large-capacity double-deck buses and 15 maximum-length single deckers. On order for 1967/68 were 43 vehicles 18 double-deckers, 20 single-deckers and five luxury coaches— costing £291,000.
But, said Mr. Wills, the seven-week strike that started on October 16 meant that the company would not soon, if ever, recover its former level of traffic. "Many passengers have been forced to change their travel habits and will not change back. Therefore to keep our affairs in balance, we must adjust our services as quickly as possible to the level which is still supported by the public's use of them."