ECE STUDIES CONTAINER SPEED-UP
30th December 1966
Page 18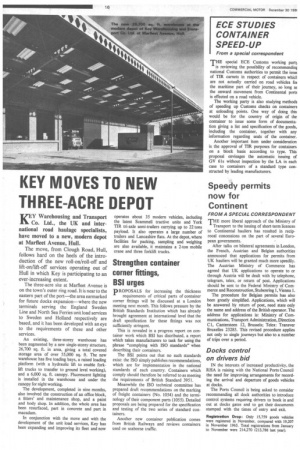 Page 18, 30th December 1966 —
ECE STUDIES CONTAINER SPEED-UP
Close
From a special correspondent THE special ECE Customs working parts is reviewing the possibility of recommending national Customs authorities to permit the issue of TIR carnets in respect of containers which are not actually carried on road vehicles fot the maritime part of their journey, so long as the onward movement from Continental ports is effected on a road vehicle.
The working party is also studying methods of speeding up Customs checks on containers at unloading points. One way of doing this would be for the country of origin of the container to issue some form of documentation giving a list and specification of the goods, including the container, together with any information regarding seals of the container.
Another important item under consideration is the approval of TIR purposes for containers on a block basis according to type. This proposal envisages the automatic issuing of GV 61s without inspection by the LA in each case to containers of a standard type constructed by leading manufacturers.