"Special Types" Must Be Authorized H EAVY motor vehicles of "
30th December 1938
Page 49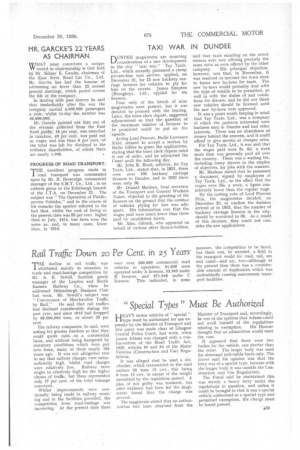 Page 49, 30th December 1938 —
"Special Types" Must Be Authorized H EAVY motor vehicles of "
Close
special " type must be authorized for use expressly by the Minister of Transport and this point was made clear at Glasgow Central Police Court, last week, when James Adams was charged with a contravention of the Road Traffic Act, 1980, articles 64 and 94 of the Motor Vehicles (Construction and Use) Regulations.
It was alleged that he used a sixwheeler, which transmitted to the road surface 25 tons 12 cwt., this being 6 tons 12 cwt. in excess of the weight permitted by the regulation named. A plea of not guilty was tendered, but after evidence had been led the magistrate found that the charge was proved.
The magistrate stated that no authorization had been obtained from the Minister Of Transport and, accordingly, he was of the opinion that Adams could not avail himself of the regulations relating to exemption. His Honour thought that an admonition would meet the case.
It appeared that there were two bodies for the vehicle, one shorter than the other. The larger body was used for abnormal indivisible loads only. The driver said his opinion was that the lorry was of a special type, because with the longer body it was outside the Construction and Use Regulations.
The Fiscal said he maintained this was merely a heavy lorry under the regulations in question, and unless it could be brought in that it was a special vehicle authorized as a special type and permitted exemption, the charge Must be found proved.