Passing Comments
30th December 1938
Page 25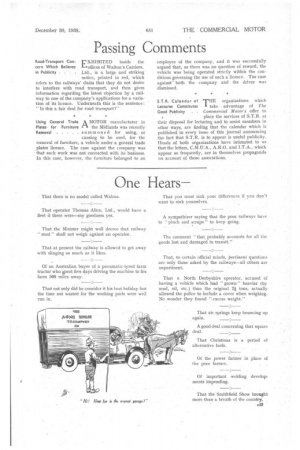 Page 25, 30th December 1938 —
Passing Comments
Close
Road-Transport ConXHIBITED inside the
cern Which Believes 1--4offices of Walton's Carriers,
in Publicity . . . Ltd., is a large and striking notice, printed in red, 'which refers to the railways' claim that they do not desire to interfere with road transport, and then gives information regarding the latest objection by a railway to one of the company's applications for a variation of its licence. Underneath this is the sentence: "Is this a fair deal for road transport?"
Using General Trade A MOTOR manufacturer in
Plates for Furniture the Midlands was recently Removal summoned for using, or causing to be used, for the removal of furniture, a vehicle under a general trade plates licence. The case against the company was that such work was not connected with its business. In this case, however, the furniture belonged to an employee of the company, and it was successfully argued that, as there was no question of reward, the vehicle was being operated strictly within the conditions governing the use of such a licence. The case against both the company and the driver was dismissed.
S.T.R. Calendar of T"organizations which Lectures' Constitutes take •. advantage of -The Good Publicity . . Commercial Motor's offer to
I place the services of S.T.R. at
their disposal for lecturing and to assist members in other ways, are finding that the calendar which is published inevery issue of this journal announcing the fact that S.T.R. is to appear is useful publicity. Heads of both organizations have intimated to us that the letters, C.M.U.A., A.R.O. and I.T.A., which appear so frequently, are in themselves propaganda on account of those associations.