A. Journal . Which Sees the Light
30th December 1938
Page 24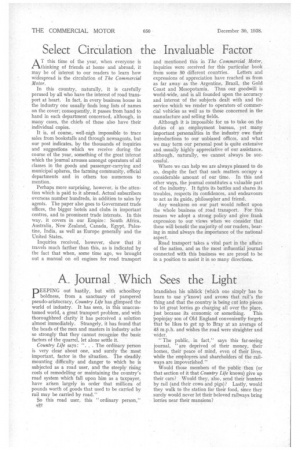 Page 24, 30th December 1938 —
A. Journal . Which Sees the Light
Close
pEEPING out hastily, but with schoolboy boldness, from a sanctuary of pampered pseudo-aristocracy, Country Life has glimpsed the world of industry. It has seen, in this unaccustomed world, a great transport problem, and with thoroughbred clarity it has perceived a solution almost immediately. Strangely, it has found that the heads of the men and masters in industry ache so strongly that they cannot recognize the basic factors of the quarrel, let alone settle it.
Country Life says : ". . . The ordinary person is very clear about one, and surely the most important, factor in the situation.• The steadily mounting difficulty and danger to which he is subjected as a road user, and the steeply rising costs of remodelling or maintaining the country's road system which fall upon him as a taxpayer, have arisen largely in order that millions of pounds worth of goods that used to be carried by rail may be carried by road."
So this road user, this "ordinary person," 42 brandishes his niblick (which one simply has to learn to use y'know) and avows that rail's the thing and that the country is being cut into pieces • to let great lorries go charging all over the place, just because its economic or something. This popinjay son of Old England conveniently forgets that he likes to get up to Bray at an average of 45 m.p.h. and wishes the road were straighter and wider.
" The public, in fact," says this far-seeing journal, "are deprived of their money, their homes, their peace of mind, even of their lives, while the employees and shareholders of the railways are impoverished."
Would those members of the public •then (or that section of it that Country Life knows) give up their cars? Would they, also, send their hunters by rail (and their cows and pigs)? Lastly, would they walk to the station for their food, since they surely would never let their beloved railways bring lorries near their mansions?