I ji 11.1■ III II] II
30th August 2001
Page 30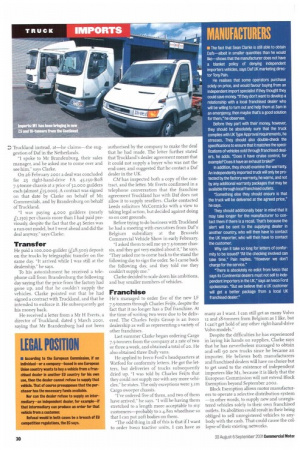 Page 30, 30th August 2001 —
I ji 11.1■ III II] II
Close
X The fact that Sean Clarke is still able to obtain Dafs—albeit in smaller quantities than he would like—shows that the manufacturer does not have a blanket policy of denying independent importers vehicles, says Daf UK marketing director Tony Pain.
He realises that some operators purchase solely on price, and would favour buying from an independent import specialist if they thought they could save money. "If they don't want to develop a relationship with a local franchised dealer who will be willing to turn out and help them at 3am in an emergency, then maybe that's a good solution for them,' he observes.
Before they part with their money, however, they should be absolutely sure that the truck complies with UK Type Approval requirements, he stresses. They should also double-check the specifications to ensure that it matches the specifications of vehicles sold through franchised dealers, he adds. "Does it have cruise control, for example? Does it have an exhaust brake?"
In addition, they should examine the warranty. An independently imported truck will only be protected by the factory warranty, he warns, and not by any additional warranty packages that may be available through local franchised outlets.
"Something else they should ensure is that the truck will be delivered at the agreed price," he says.
They should additionally bear in mind that it may take longer for the manufacturer to contact them if there is a recall. That's because the alert will be sent to the supplying dealer in another country, who will then have to contact the UK importer, who will then have to contact the customer.
Why can it take so long for letters of conformity to be issued? 'All the checking involved can take time," Pain replies. "However we don't charge for the service."
"There is absolutely no edict from Iveco that says its Continental dealers must not sell to independent importers in the UK," says an Iveco Ford spokesman. "But we believe that a UK customer will get a better package from a local UK franchised dealer.'