An answer to Yorkshire Pudding
30th August 1980
Page 36
Page 37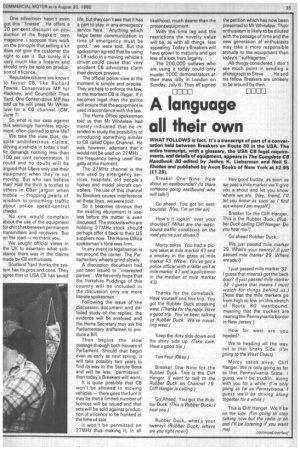 Page 36, 30th August 1980 —
An answer to Yorkshire Pudding
Close
THERE ARE at least 200,000 people breaking the law on broadcasting in the UK today. They call themselves Breakers or CBers and they use broadcasting, transmitting and receiving equipment on 27MHz without a licence.
When the Home Secretary announced in the House of Commons in May that he was prepared to consider legalising the equipment such broadcasters use, we urged Mr Whitelaw to think again and referred to the equipment as "dangerous toys" (CM, May 24). We have never before had such a deluge of mail on any topic — not even the introduction of the tachograph, which we supported.
Regrettably it was impossible to print all the letters we received because some were obscene, some were illiterate, and very many more were anonymous. But we published quite a few, and still others appear in this issue (see p20).
Steve . . . (presumably that means dotty?), secretary of a North of England Breakers Club, wrote to say that when our editorial comment was read to his 200 members they went mad.
Steve . . . wants ray photograph so that his members can recognise me and see me rot or be incinerated in my car before they call for help.
Then there's Yorkshire Pudding. He can eat a chocolate bar, unwrap a packet of sweets, smoke a cigarette, use CB radio, and still be in perfect control of his 32-ton outfit, It's not difficult to understand why his code name is Yorkshire Pudding. Without too much extra effort he could become the potato, roasted in his jacket to complete the dish, Code names are the big thing with CBers _ Rubberduck, Smokey Joe, Crankey Yankee, Suicide Jockey, American Boy, and others too outlandish to mention are their pet call signs. Although if CB was made legal they would have more conventional call signs which some might conceivably use.
The greatest plank in the CBers platform is their publicspirited approach to saving life except my life, of course. They argue that CB saves but they can't say how many lives have been or will be saved annually as a result of CB.
It is a statistical fact that between 14 and 20 people die on our roads every day — except on Bank Holidays, when the figure can double. There has been little variation on this figure in the past ten years, and it is therefore difficult to see on what the CBers base their claim.
Of course the Americans can say they operate a life-saving exercise with CB. In their wideopen country with no emergency phone services on long sections of highway and where road patrols or police patrols are few and far between, there could be a case for the service.
In the UK we are well served by phones, police, fire and ambulance services. Yes, of course there are remote areas in the Grampians, Yorkshire moors and the Black Mountains of Wales, but the mortality rate in these areas is no worse than in central London.
The density of central London is compared to New York in the CBers arguments. London cabs are almost all equipped with two-way radio control, and the cabbies are humane enough to bring the emergency services into play when needed and they do it daily.
Recently the CBers got their own publication. In the first issue a dramatic tale is told of how a group of CBers organised a car chase, made a citizens' arrest on a thief, and handed him over to the police. The chase organiser, it says, was thanked by the police and charged by the Customs and Excise.
That story, authentic or not, and the CBers assertion that they save lives, illustrates adequately their approach to the subject. They are playing doctors and nurses or cops and robbers.
What possible purpose can the equipment serve? Well, we know in the USA it keeps drivers on long hauls in touch with their buddies. But UK Breakers keep in touch at their club meetings. And they've got to be real close friends to need talking to daily.
Then there are the other aspects. Spoof calls are not unknown in the CB world in America. How can their UK counterparts claim things would be different here?
What also of the use of the equipment to divert and hijack loads? It's much too easy. We also hear of women breaking down in remote areas, calling for help, and becoming victims of sexual assault in the USA. Might that not also happen here? Not if the young lady the police apprehended in the South of England is an example of the UK Breakers.
As the officer put his hand into the car to impound the equipment, she closed the door on it, we're told. I'm sure the injured party would agree with me that CB is a dangerous toy.
But not all CBers are irresponsible. We understand there are those who have the equipment but do not and will not use it until it is legalised. So perhaps they do not qualify for the title CBer and they are certainly not breakers.
Then there are the potential equipment suppliers who are advertising with a difference. They say -sorry, but rigs are not available until legal" — then strangely enough they offer discounts.
One advertiser hasn't even got this "finesse". He offers a 20 per cent discount on production of the Breakers' own magazine. I suppose they work on the principle that selling a kit does not give the customer the right to use it. But surely it's very much like a firearm and should only be sold on production of a licence.
Reputable citizens are known to favour CB, like Richard Towne, Conservative MP for Hackney, and Councillor Theo Yard. One Conservative MP has told us he will press Mr Whitelaw for a CB channel (CM, June 7).
So what is our case against this seemingly harmless equipment, often claimed to save life?
We take the view that, despite ambidextrous claims, driving a vehicle in today's traffic demands nothing less than 100 per cent concentration. It could and no doubt will be argued that CBers only use their equipment when they're not moving. But who can believe that? Half the thrill is to chat to others in CBer jargon when mobile — dropping pearls of wisdom to oncoming traffic about police speed-control checks.
No one would complain about the use of the equipment for chit chat between permanent transmitters and receivers. But on the road — no thank you.
We sought official views in the UK to ascertain what substance there was in the claims made by CB enthusiasts.
Scotland Yard thinks the system has its pros and cons. They agree that in USA CB has saved
life, but they can't see that it has a part to play in any emergency service here. "Anything which helps better communication in time of emergency must be good,we were told. But the spokesman agreed that by using a CB radio in a moving vehicle a driver could cause that very accident CB advocates claim their devices prevent.
The official police view at the moment is simple and precise. They are here to enforce the law, at the moment CB is illegal. If it becomes legal then the police will ensure that the equipment is used in accordance with the law. The Home Office spokesman told us that Mr Whitelaw had merely indicated that he in tended to study the possibility of introducing something similar to CB called Open Channel. He was, however, adamant that it would not be used on 27MHz the frequency being used illegally at the moment.
The 27MHz channel is the one used by emergency ser vices, hospitals, old people's homes and model aircraft controllers. The use of this channel by Breakers causes interference on these lines, we were told.
So it becomes obvious that the existing equipment is use less before the matter is even discussed. The stockists who are holding 27MHz stock should perhaps offer it back to their US suppliers now. The Home Office spokesman's tone was firm.
In any event its legalisation is not around the corner. The Parliamentary wheels grind slowly.
A discussion document had just been issued to "interested
parties-. We fervently hope that the Yorkshire Puddings of this country will be included in the discussion only via more literate spokesmen.
Following the issue of the discussion document and de tailed study of the replies, the evidence will be analysed and the Home Secretary may ask his Parliamentary draftsmen to produce a Bill.
Then begins the slow passage through both Houses of Parliament. Should that begin even as early as next spring, it will take possibly two years to find its way to the Statute Book and will be less ''permissive" than today's Breakers will want. It is quite possible that CB won't be allowed in moving vehicles — there goes the fun! It may be that a limited number of licences will be issued and that sets will be sold against production of a licence to be franked at the time of sale.
It won't be permitted on 27MHz thus making it, in all likelihood, much dearer than the present equipment.
With the time lag and the restrictions the novelty value will be, as with all things. less appealing. Today's Breakers will have grown to maturity and get less of a kick from legality.
The 200,000 outlaws who are using it today could only muster 1000 demonstrators at their mass rally in London on Sunday, July 6. They all signed the petition which has now been presented to Mr Whitelaw. Their enthusiasm is likely to be diluted with the passage of time and the new generation of enthusiasts may take a more responsible attitude to the equipment than today's "suffragettes''.
All things considered I don't see much point in sending a photograph to Steve. . . He and his fellow Breakers are unlikely to be around by then.