It just keeps coming
30th August 1980
Page 16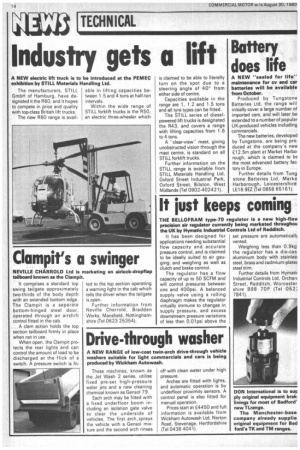 Page 16, 30th August 1980 —
It just keeps coming
Close
THE BELLOFRAM type-70 regulator is a new high-flov precision air regulator currently being marketed throughou the UK by Hymatic Industrial Controls Ltd of Redditch.
It has been designed for applications needing substantial flow capacity and accurate pressure control, and is claimed to be ideally suited to air gauging, and weighing as well as clutch and brake control.
The regulator has a flow capacity of up to 50 SCFM and will control pressures between one and 400psi. A balanced supply valve using a rolling diaphragm makes the regulator virtually immune to changes in supply pressure, and excess downstream pressure variations of less than 0.01psi above the Set pressure are automaticall) vented.
Weighing less than 0.9kg the regulator has a die-cas aluminium body with stainles steel, brass and cadmium-plate( steel trim.
Further details from Hyrnatic Industrial Controls Ltd, Orcharc Street, Redditch, Worcester shire B98 7DP (Tel 052; 7841).