On track Hydraulic lacks AERO-space electronics instead of conventional light-beam
30th August 1974
Page 50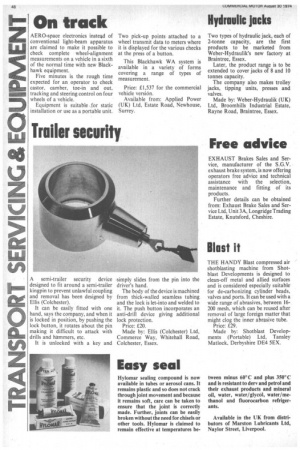 Page 50, 30th August 1974 —
On track Hydraulic lacks AERO-space electronics instead of conventional light-beam
Close
apparatus are claimed to make it possible to check complete wheel-alignment measurements on a vehicle in a sixth of the normal time with new Blackhawk equipment.
Five minutes is the rough time expected for an operator to check castor, camber, toe-in and out, tracking and steering control on four wheels of a vehicle.
Equipment is suitable for static installation or use as a portable unit. Two pick-up points attached to a wheel transmit data to meters where it is displayed for the various checks at the press of a button.
This Blackhawk WA system is available in a variety of forms covering a range of types of measurement.
Price: £1,537 for the commercial vehicle version.
Available from: Applied Power (UK) Ltd, Estate Road, Newhouse, Surrey. Two types of hydraulic jack, each of 2-tonne capacity, are the first products to be marketed from Weber-Hydraulik's new factory at Braintree, Essex.
Later, the product range is to be extended to cover jacks of 8 and 10 tonnes capacity.
The company also makes trolley jacks, tipping units, presses and valves.
Made by: Weber-Hydraulik (UK) Ltd, Broomhills Industrial Estate, Rayne Road, Braintree, Essex.