Q In your issue of June 21 you said that
30th August 1974
Page 45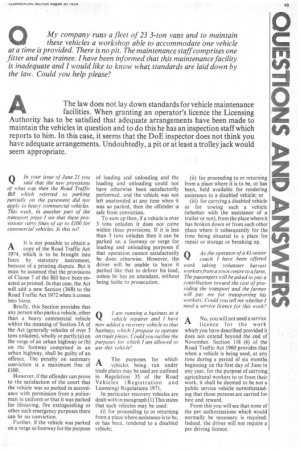 Page 45, 30th August 1974 —
Q In your issue of June 21 you said that
Close
the new provisions of what was then the Road Traffic Bill which referred to parking partially on the pavement did not apply to heavy commercial vehicles. This week, in another part of the transport press 1 see that these provisions carry fines of up to .£100 for commercial vehicles. Is this so?
A it is not possible to obtain a copy of the Road Traffic Act 1974, which is to be brought into force by statutory instrument, because of a printing dispute. But it must he assumed that the provisions of Clause 7 of the Bill have been enacted as printed. In that case, the Act will add a new Section (36B) to the Road Traffic Act 1972 when it comes into force.
Briefly, this Section provides that any person who parks a vehicle, other than a heavy commercial vehicle within the meaning of Section 3A of the Act (generally vehicles of over 3 tons unladen), wholly or partly (a) on the verge of an urban highway or (b) on the footway comprised in an urban highway, shall be guilty of an offence. The penalty on summary conviction is a maximum fine of £100.
However, if the offender can prove to the satisfaction of the court that the vehicle was so parked in accordance with permission from a policeman in uniform or that it was parked for lifesaving, fire extinguishing or other such emergency purposes there can be no conviction, Further, if the vehicle was parked on a verge or footway for the purpose of loading and unloading and the loading and unloading could not have otherwise been satisfactorily performed, and the vehicle was not left unattended at any time when it was so parked, then the offender is safe from conviction.
To sum up then, if a vehicle is over 3 tons unladen it does not come within these provisions. If it is less than 3 tons unladen then it can be parked on a footway or verge for loading and unloading purposes if that operation cannot satisfactorily be done otherwise. However, the driver will be unable to leave it parked like that to deliver his load, unless he has an attendant, without being liable to prosecution.