Trade licences (1)
30th August 1974
Page 42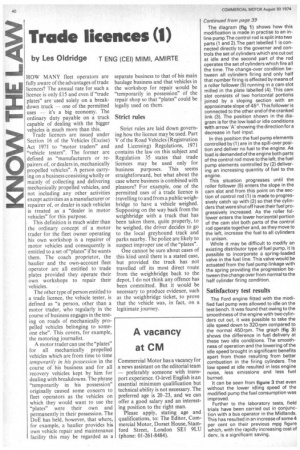 Page 42, 30th August 1974 —
Trade licences (1)
Close
by Les Oldridge T ENG (CEI) MIMI, AMIRTE
HOW MANY fleet operators are fully aware of the advantages of trade licences? The annual rate for such a licence is only 115 and even if "trade plates" are used solely on a breakdown truck -one of the permitted uses -it's a big economy. The ordinary duty payable on a truck capable of dealing with the bigger vehicles is much more than this.
Trade licences are issued under Section 16 of the Vehicles .(Excise) Act 1971 to "motor traders" and "vehicle testers". The former are defined as "manufacturers or repairers of, or dealers in, mechanically propelled vehicles". A person carrying on a business consisting wholly or mainly of collecting and delivering mechanically propelled vehicles, and not including any other activities except activities as a manufacturer or repairer of, or dealer in such vehicles is treated as a "dealer in motor vehicles" for this purpose.
. This definition is much wider than the ordinary concept of a motor trader for the fleet owner operating his own workshop is a repairer of motor vehicles and consequently is entitled to a set of "plates" if he wants them. The coach proprietor, the haulier and the own-account fleet operator are all entitled to trade plates provided they operate their own workshops to repair their vehicles.
The other type of person entitled to a trade licence, the vehicle tester, is defined as "a person, other than a motor trader, who regularly in the course of business engages in the testing on roads of mechanically propelled vehicles belbnging to someone else". This covers, for example, the motoring journalist.
A motor trader can use the "plates" for all mechanically propelled vehicles which are from time to time temporarily in his possession in the course of his business and for all recovery vehicles kept by him for dealing with breakdowns. The phrase "temporarily in his possession" originally caused some concern to fleet operators as the vehicles on which they would want to use the "plates" were their own and permanently in their possession. The DoE has held, however, that where, for example, a haulier provides his own vehicle repair and maintenance facility this may be regarded as a separate business to that of his main haulage business and that vehicles in the workshop for repair would be "temporarily in possession" of the repair shop so that "plates" could be legally used on them.
Strict rules
Strict rules are laid down governing how the licence may be used. Part V of the Road Vehicles (Registration and Licensing) Regulations, 1971 contains the law on this subject and Regulation 35 states that trade licences may be used only for business purposes. This seems straightforward, but what about the case where business is combined with pleasure? For example, one of the permitted uses of a trade licence is travelling to and from a public weighbridge to have a vehicle weighed. Supposing on the way back from the weighbridge with a truck that has been taken there, quite properly, to be weighed, the driver decides to go to the local greyhound track and parks nearby. The police are likely to suspect improper use of the "plates".
One cannot be sure about cases of this kind until there is a stated case, but provided the truck has not travelled off its most direct route from the weighbridge back to the depot, I do not think any offence has been committed. But it would be necessary to produce evidence, such as the weighbridge ticket, to prove that the vehicle was, in fact, on a legitimate journey.