John Abbott
30th August 1974
Page 40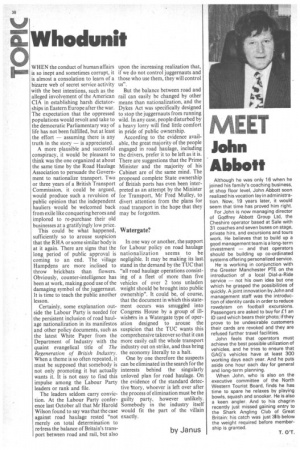 Page 40, 30th August 1974 —
John Abbott
Close
Although he was only 16 when he joined his family's coaching business, at shop floor level, John Abbott soon realized his vocation lay in administration. Now, 19 years later, it would seem that time has proved him right.
For John is now managing director of Godfrey Abbott Group Ltd, the Cheshire operator based at Sale with 31 coaches and seven buses on stage, private hire, and excursions and tours work. He believes that to build up a good management team is a long-term investment — and that operators should be building up co-ordinated systems offering personalized service.
He is working in conjunction with the Greater Manchester PTE on the introduction of a local Dial-a-Ride service — not his own idea but one which he grasped the possibilities of quickly. A joint innovation by John and management staff was the introduction of identity cards in order to reduce rowdyism on football excursions. Passengers are asked to buy for £1 an ID card which bears their photo; if they prove to be undesirable customers their cards are revoked and they are refused further travel facilities.
John feels that operators must achieve the best possible utilization of vehicles, and he tries to ensure that GAG's vehicles have at least 300 working days each year. And he puts aside one hour each day for general and long-term planning.
When John, who is also on the executive committee of the North Western Tourist Board, finds he has time to spare he relaxes by playing bowls, squash and snooker. He is also a keen angler. And to his chagrin recently just missed gaining entry to the Shark Angling Club of Great Britain: his catch was just 31Ib below the weight required before membership is granted.
T. O'T.