York suspension poised on air
30th August 1974
Page 29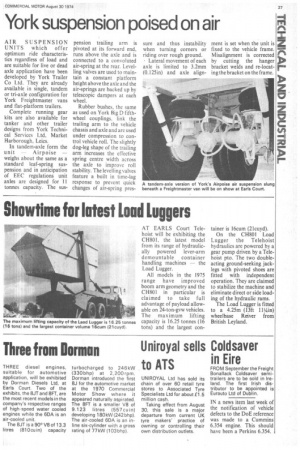 Page 29, 30th August 1974 —
York suspension poised on air
Close
AIR SUSPENSION UNITS which offer optimum ride characteristics regardless of load and are suitable for live or dead axle application have been developed by York Trailer Co Ltd. They are already available in single, tandem or tri-axle configuration for York Freightmaster vans and flat-platform trailers.
Complete running gear kits are also available for tanker and other trailer designs from York Technical Services Ltd, Market Harborough. Leics.
In tandem-axle form the unit — Airpoise — weighs about the same as a standard leaf-spring suspension and in anticipation of EEC regulations unit axles are designed for 11 tonnes capacity. The sus pension trailing arm is pivoted at its forward end, runs above the axle and is connected to a convoluted air-spring at the rear, Levelling valves are used to maintain a constant platform height above the axle and the air-springs are backed up by telescopic dampers at each wheel.
Rubber bushes, the same as used on York Big D fifthwheel couplings, link the trailing arm to the vehicle chassis and axle and are used under compression to control vehicle roll. The slightly dog-leg shape of the trailing arm increases the effective spring centre width across the axle to improve roll stability. The levelling valves feature a built in time-lag response to prevent quick changes of air-spring pres sure and thus instability when turning corners or riding over rough ground.
• Lateral movement of each axle is limited to 3.2mm (0.125in) and axle align ment is set when the unit is fixed to the vehicle frame. Misalignment is corrected by cutting the hanger bracket welds and re-locating the bracket on the frame.