Showtime for latest Load Loggers
30th August 1974
Page 29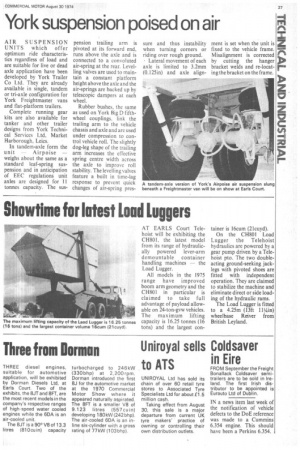 Page 29, 30th August 1974 —
Showtime for latest Load Loggers
Close
AT EARLS Court Telehoist will be exhibiting the CH801, the latest model from its range of hydraulically powered lever-arm demountable container handling machines — the Load Lugger.
All models in the 1975 range have improved boom arm geometry and the CHg01 in particular is claimed to take full advantage of payload allowable on 24-ton-gvw vehicles. The maximum lifting capacity is 16.25 tonnes (16 tons) and the largest con tainer is 16cum (21cuyd).
On the CH801 Load Lugger the Telehoist hydraulics are powered by a gear pump driven by a Telehoist pto. The two doubleacting ground-seeking jacklegs with pivoted shoes are fitted with independent operation. They are claimed to stabilize the machine and eliminate direct or side loading of the hydraulic rams.
The Load Lugger is fitted to a 4.25m (13ft 111/4in) wheelbase Reiver from British Leyland.