Jack Midwood. 53 joins Midlands British Road Services from a
30th August 1974
Page 23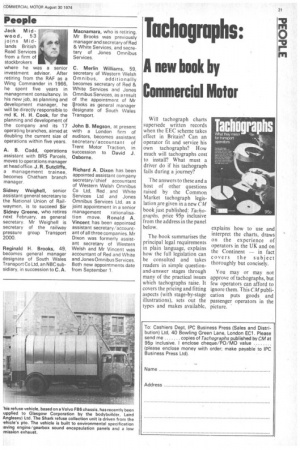 Page 23, 30th August 1974 —
Jack Midwood. 53 joins Midlands British Road Services from a
Close
firm of stockbrokers where he was a senior investment advisor. After retiring from the RAF as a Wing Commander in 1966, he spent five years in Management consultancy. In his new job, as planning and development manager, he will be directly responsible to md K. H. H. Cook, for the planning and development of the company and its 17 operating branches, aimed at doubling the current size of operations within five years.
A. B. Dodd, :operations assistant with BRS Parcels, moves to operations manager at head office. J. R. Sutcliffe, a management trainee, becomes Chatham branch manager.
Sidney Weighell, senior assistant general secretary to the National Union of Railwaymen, is to succeed Sir Sidney Greene, who retires next February, as general secretary. Mr Weighell is secretary of the railway pressure group Transport 2000.
Reginald H. Brooks, 49, becomes general manager designate of South Wales Transport Co Ltd, an NBC subsidiary, in succession to C. A. Macnamara, who is retiring. Mr Brooks was previously manager and secretary of Red & White Services, and secretary of Jones Omnibus Services.
C. Merlin Williams, 59, secretary of Western Welsh
Omnibus, additionally becomes secretary of Red & White Services and Jones Omnibus Services, as a result of the appointment of Mr cirooks as general manager designate of South Wales Transport.
John B. Megson, at present with a London firm of auditors, becomes assistant secretary/accountant of Trent Motor Traction, in succession to David J. Osborne.
Richard A. Dixon has been appointed assistant company secretary/chief accountant of Western Welsh Omnibus Co Ltd, Red , and White Services Ltd and Jones Omnibus Services Ltd, as a joint appointment in a senior management rationalisation move. Ronald A. Vincent has been appointed assistant secretary/accountant of all three companies. Mr Dixon was formerly assistant secretary of Western Welsh and Mr Vincent was accountant of Red and White and Jones Omnibus Services. Both new appointments date from September 1,
Tags
People
:
Sidney Greene
,
Jack Midwood
,
David J. Osborne
,
Richard A. Dixon
,
Sidney Weighell
,
J. R. Sutcliffe
,
John B. Megson
,
C. Merlin Williams
,
C. A. Macnamara
,
Reginald H. Brooks
,
Ronald A. Vincent