One number service is a helping hand for DAF owners
30th August 1974
Page 18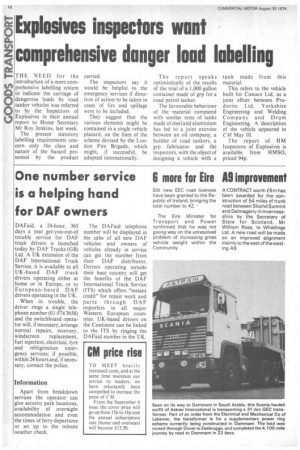 Page 18, 30th August 1974 —
One number service is a helping hand for DAF owners
Close
DAFaid, a 24-hour, 365 days a year get-you-out-of trouble service for DAF truck drivers is launched today by DAF Trucks (GB) Ltd. A UK extension of the DAF International Truck Service, it is available to all UK-based DAF truck drivers operating either at home or in Europe, or to European-based DAF drivers operating in the UK.
When in trouble, the driver rings a single telephone number (01-574 3658) and the switchboard operator will, if necessary, arrange normal repairs, recovery, windscreen replacement, fuel injection, electrical, tyre and refrigeration emergency services; if possible, within 24 hours and, if necessary, contact the police.
Information
Apart from breakdown services the operator can give security park locations, availability of overnight accommodation and even the times of ferry departures or an up to the minute weather check. The DAFaid telephone number will be displayed in the cabs of all new DAF vehicles and owners of vehicles already in service can get the number from their DAF distributor. Drivers operating outside their base country will get the benefits of the DAF International Truck Service (ITS) which offers "instant credit" for repair work and parts through DAF importers in all major Western European countries. UK-based drivers on the Continent can be linked to the ITS by ringing the DAFaid number in the UK.