Explosives inspectors want comprehensive danger load labelling
30th August 1974
Page 18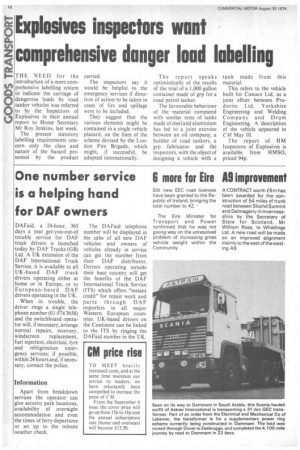 Page 18, 30th August 1974 —
Explosives inspectors want comprehensive danger load labelling
Close
THE NEED for the introduction of a more comprehensive labelling system to indicate the carriage of dangerous loads by road tanker vehicles was referred to by the Inspectors of Explosives in their annual report to Home Secretary Mr Roy Jenkins, last week.
The present statutory labelling requirements concern only the class and nature of the hazard presented by the product carried.
The inspectors say it would be helpful to the emergency services if direction of action to be taken in cases of fire and spillage were to be included.
They suggest that the various elements might be contained in a single vehicle placard, on the lines of the scheme devised by the London Fire Brigade, which might, if successful, be adopted internationally. The report speaks optimistically of the results of the trial of a 1,000 gallon container made of grp for a road petrol tanker.
The favourable behaviour of the material compared with similar tests of tanks made of steel and aluminium has led to a joint exercise between an oil company, a builder of road tankers, a grp fabricator and the inspectors, with the object of designing a vehicle with a tank made from this material.
This refers to the vehicle built for Conoco Ltd, as a joint effort between Prodorite Ltd, Yorkshire Engineering and Welding Company and Drum Engineering. A description of the vehicle appeared in CM May 10.
The report of HM Inspectors of Explosives is available from HMSO, priced 94p.