Fred Mulley provides the facts and figures
30th August 1974
Page 15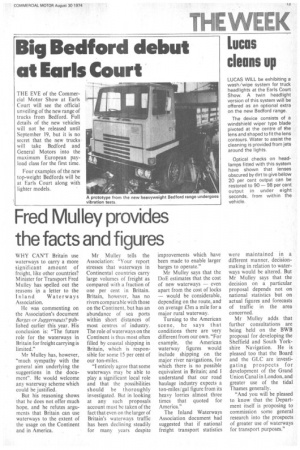 Page 15, 30th August 1974 —
Fred Mulley provides the facts and figures
Close
WHY CAN'T Britain use waterways to carry a more significant amount of freight, like other countries? Minister for Transport Fred Mulley has spelled out the reasons in a letter to the Inland Waterways Association.
He was commenting on the Association's document Barges or Juggernauts? published earlier this year. His conclusion is: "The future role for the waterways in Britain for freight carrying is limited."
Mr Mulley has, however, "much sympathy with the general aim underlying the suggestions in the document". He would welcome any waterway scheme which could be justified.
But his reasoning shows that he does not offer much hope, and he refutes arguments that Britain can use waterways to the extent of the usage on the Continent and in America. Mr Mulley tells the Association: "Your report stresses that waterways in Continental countries carry large volumes of freight as compared with a fraction of one per cent in Britain. Britain, however, has no rivers comparable with those on the Continent, but has an abundance of sea ports within short distances of most centres of industry. The role of waterways on the Continent is thus most often filled by coastal shipping in Britain, which is responsible for some 15 per cent of our ton-miles.
"I entirely agree that some waterways may be able to play a significant local role and that the possibilities should be thoroughly investigated. But in looking at any such proposals account must be taken of the fact that even on the larger of Britain's waterways traffic has been declining steadily for many years despite improvements which have been made to enable larger barges to operate."
Mr Mulley says that the DoE estimates that the cost of new waterways — even apart from the cost of locks — would be considerable, depending on the route, and on average Om a mile for a major rural waterway.
Turning to the American scene, he says that conditions there are very different from our own. "For example. the American waterway figures would include shipping on the major river navigations, for which there is no possible equivalent in Britain; and I understand that our road haulage industry expects a ton-miles gal figure from its heavy lorries almost three times that quoted for America."
The Inland Waterways Association document had suggested that if national freight transport statistics were maintained in a different manner, decisionmaking in relation to waterways would be altered. But Mr Mulley says that the decision on a particular proposal depends not on national statistics but on actual figures and forecasts of traffic in the area concerned.
Mr Mulley adds that further consultations are being held on the BWB proposal for developing the Sheffield and South Yorkshire Navigation. He is pleased too that the Board and the GLC are investigating prospects for development of the Grand Union Canal in London, and greater use of the tidal Thames generally.
"And you will be pleased to know that the Department itself is proposing to commission some general research into the prospects of greater use of waterways for transport purposes."