A Useful Test Bench for Electrical Units.
30th August 1927
Page 55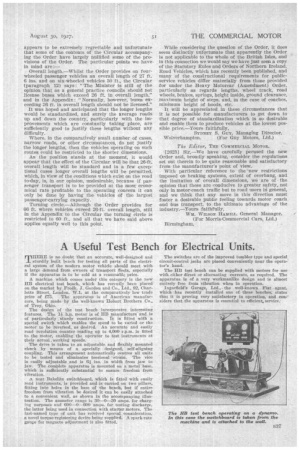 Page 55, 30th August 1927 —
A Useful Test Bench for Electrical Units.
Close
MHERE is no doubt that an aecurate, well-desiAlied and 1_ sturdily built bench for testing all parts of the electrical system of the modern motor vehicle should meet with a large demand from owners of transport fleets, especially if the apparatus is to be sold at a reasonable price.
A machine which comes under this category is the new HB electrical test bench, which has recently been placed on the market by ,Fredk. 3'. Gordon and Co., Ltd., 92, Charlotte Street, London, W.1, at the comparatively low trade
price of £75. The apparatus is of American naanufaccure. being made by the well-known Hobart Brothers. Co.,
of Troy, Ohio. • .
The design of the test bench incorporates interesting features. The 1..h.p. motor is of HB manufacture 'and is of particularly :sturdy construction. It is fitted with a special switch which enables the speed to be varied or the motor to be 'reversed, as desired. An accurate and easily read • revolution counter reading up to 4,000 r.p.tn. is fitted to the motor, enabling the operator to test instruments at their. actual .working speeds.
The drive is taken to an adjustable and fle7zibly mounted chuck by means of a specially designed, self-aligning coupling. This arrangement automatically centres all units to be tested and eliminates torsional -strain. The vice is easily adjustable and is 6i ins, in width from jaw to jaw. The complete apparatus is mounted on a metal base, which is sufficiently substantial to ensure freedom from vibration.
A neat Bakelite switchboard, which is fitted with easily road instruments, is provided and,is carried on twci pillars, fitting into holes in the base of the bench, but if entire freedom from vibration be desired it can be easily attached to a convenient wall, as shown in the accompanying illustration. The ammeter range is 80-0-30 amps, for charging purposes and 600-0----600 amps, for testing discharge, the latter being used in connection with starter motors. The last-named type of unit has received special consideration, a novel torque-registering device being supplied. A spark-rate gauge for magneto adjustment is also fitted.
The switches are of the improved tumbler type and special circuit-control jacks are placed conveniently near the opera: tar's hand.
The TIES test bench can be supplied with motors for use with either direct or alternating currents, as required. The ' apparatus is of a very workmanlike design and is almost entirely free from vibration when in operation.
Ingarfield's Garage, Ltd., the well-known Fiat agent, which has recently installed one of these benches; States that it is proving very satisfactory in operation, and eon-' siders that the apparatus is essential to efficient" service,