ONE HEARS
30th August 1917
Page 3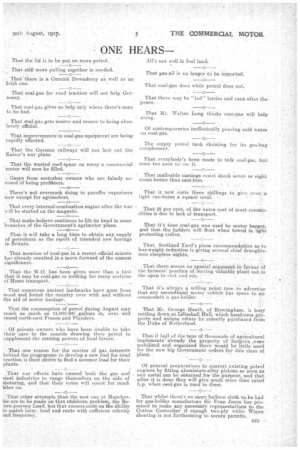 Page 3, 30th August 1917 —
ONE HEARS
Close
That the lid is to be put on more petrol.
That still more pulling together is needed.
, That there is a Cornish Downderry as well as an Irish one.
That coal-gas for road traetion will not help Ger many.
That coal-gas gives no help only where there's none to be had.
That ebahgas gets nearer and nearer to being abso lutely official.
That improvements in coal-gas equipment are -being rapidly effected.
That the German railways will not last out the Kaiser's war plans. '
That the wasted roof-space on many a commercial motor will now be filled. • , Gasps from -motorbus owners who are falsely accused of being profiteers.
There'a not overmuch doing in paraffin vaporizers now except for agrimotors.
That every internal-combustion engine after the war will be started on the magneto.
That make-believe continues to lift its head in some -branches of the Governments agrirnotor plans.
• ' That it will take a long time to obtain any supply of petroleum as the re,sult of intended new borings in Britain.
That mention of coal-gas in a recent official minutehas already resulted in-a move forward of the utmost significance.
. That the W.O. has been given more than a hint that it may be coal-gas or nothing for Many sections of Home transport..
That numerous ancient landmarks have gone from Wood and forest the country over with and without the aid of motor haulage.
• That the consumption of petrol during August may reach as much as 14,000,000 gallons in, over and. round north-east France and Flanders.
. Of private owners who have been Unable to take their cars to the -seaside drawing their petrol , to supplement the running powers of local hirers.
• ,
That one reason for the muster of gas interests behind the programme to develop a new fuel for road traction is their desire to find a summer load for their plants. • . That war effects have caused both the gas and steel industries to range themselves • on the side of Motoring, and that their votes will count for much liter on.
That other attempts than the new one at Manchester are to be made on that stubborn problem, the Re:urn-journey Load, but that success rests on the ability to match lorry, load and route with sufficient celerity and frequency. All's not well in fuel land.
That gas-oil is no longer to be imported.
That coal-gas does while petrol does not.
That there may be "lad" lorries and vans after the peace.
That Mr. Walter Long -thinks coal-gas will help along.
Of contemporaries ineffeCtually pouring cold water on coal-gas.
The empty petrol tank Shouting for its gas-bag complement.
That everybody's been made to talk coal-gas, but none too soon to. use it.
That malleable castings resist shock seven or eight times better than cast-iron. -• That it now costs three shillings .tol give even a light van-horse a square meal.
That 28 per cent. of the extra cost of most commodities is due to lack of transport.
That it's time coal-gas was used by motor barges, 4nd that the holders will float when towed in light protecting crates.
That Scotland Yard's pious recommendation as to bus-weight reduction is giving several chief draughtsmen sleepless nights.
That there seems no special argument in favour -of i he farmers practice of leaving valuable plant out in the open to rust and rot.
That it's always a selling point now to advertise that any secondhand motor vehicle has space to ac commodate a gas-holder. : That Mr. George Heath. of Birmingham, is busy settling down at Lilleshall.HaIl, which handsome property and unique estate he-recently purchased from the Duke of Sutherland..
That if half of the tens of thousands ofagricultural implements already the property of fannera were mobilized and organized there would be' little need for the new big Government orders for -this class of plant.
Of general preparations to conv,ert existing petrol engines by fitting aluminium-alloy pistons as soon as any metal can be obtained for the purpose, and that after it is done they will give much more than rated h.p. when coal-gas is used in theni.
That whilst there's no more balloon cloth ta.be had for gas-holder manufac tuze Sir Evan Jones has promised to make any necessary representations to the Cotton Controller if enough two-ply white Wigan sheeting is not forthcoming to secure permits. c25