Rough, tough, ugly ?
30th April 1976
Page 7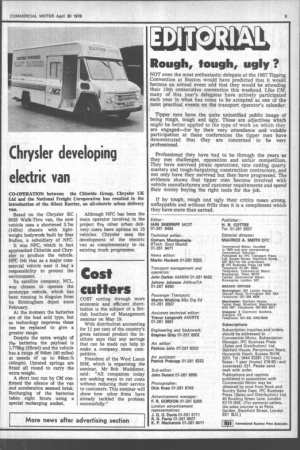 Page 7, 30th April 1976 —
Rough, tough, ugly ?
Close
NOT even the most enthusiastic delegate at the 1967 Tipping Convention at Buxton would have predicted that it would become an annual event and that they would be attending their 10th consecutive convention this weekend. Like CM, many of this year's delegates have actively participated each year in what has come to be accepted as one of the most practical events on the transport operator's calendar.
Tipper men have the quite unjustified public image of being rough, tough and ugly. These are adjectives which might be better applied to the type of work on which they are engaged—for by their very attendance and voluble participation at these conferences the tipper men have demonstrated that they are concerned to be very professional.
Professional they have had to be through the years as they met challenges, opposition and unfair competition. They have survived pirate operations, rate cutting quarry masters and tough-bargaining construction contractors, and not only have they survived but they have progressed. The evidence shows that tipper men become involved with vehicle manufacturers and customer requirements and spend their money buying the right tools for the job.
If by tough, rough and ugly their critics mean strong, unflappable and without frills then it is a compliment which they have more than earned.