Chrysler developing electric van
30th April 1976
Page 7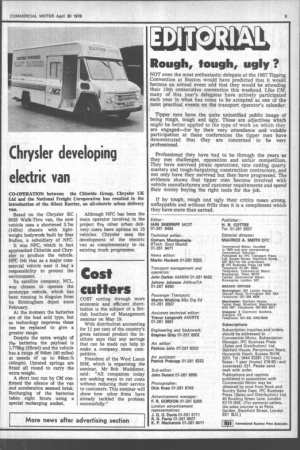 Page 7, 30th April 1976 —
Chrysler developing electric van
Close
CO-OPERATION between the Chloride Group, Chrysler UK Ltd and the National Freight Coroporation has resulted in the introduction of the Silent Karrier, an all-electric urban delivery van.
Based on the Chrysler KC 6055 Walk-Thru van, the new vehicle uses a shortened 3.7m (145in) chassis with lightweight bodywork built by Star Bodies, a subsidiary of NEC.
It was NFC, which in fact approached Chloride and Chrysler to produce the vehicle. NFC felt that as a major commercial vehicle user it had a responsibility to protect the environment.
Its satellite company, NCL, was chosen to operate the prototype vehicle, which has been running in disguise from its Birmingham depot since February.
At the moment the batteries are of the lead acid type, but as technology improves these can be replaced to give a greater range.
Despite the extra weight of the batteries the payload is I,778kg (35cwt) and the vehicle has a range of 64km (40 miles) at speeds of up to 64km/h (40mph). Uprated springs are fitted all round to carry the extra weight.
A short test run by CM confirmed the silence of the van and acceleration seemed brisk. Recharging of the batteries takes eight hours using a special recharging socket. Although NFC has been the main operator involved in the project five other urban delivery users have options on 15 vehicles. Chrysler sees the development of the electric van as complementary to its existing truck programme.