The low-down on new hydraulic trailers
30th April 1976
Page 34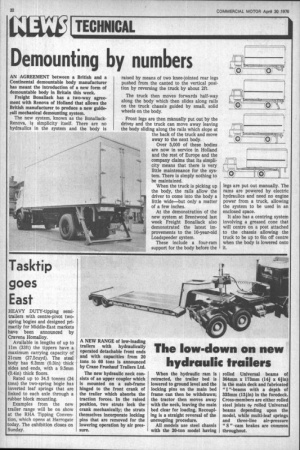 Page 34, 30th April 1976 —
The low-down on new hydraulic trailers
Close
A NEW RANGE of low-loading trailers with hydraulically operated detachable front ends and with capacities from 20 tons to 60 tons is announced by Crane Fruehauf Trailers Ltd.
The new hydraulic neck consists of an upper coupler which is mounted on a sub-frame hinged to the front crank of the trailer which absorbs the traction forces. In the raised position, two struts lock the crank mechanically; the struts themselves incorporate locking pins that are removed for the lowering operation by air pressure. When the hydraulic ram is retracted, the trailer bed is lowered to ground level and the locking pins on the main bed frame can then be withdrawn; the tractor then moves away with the neck, leaving the main bed clear for loading. Recoupling is a straight reversal of the uncoupling procedure.
All models use steel chassis with the 20-ton model having rolled Universal beams of 364mm x 173mm (14i x 6iin) In the main deck and fabricated "I "-beams with a depth of 335mm (131in) in the foredeck. Cross-members are either rolled steel joists or rolled Universal beams depending upon the model, while multi-leaf springs and three-line air-pressure "S " •cam brakes are common throughout.