'No warning' dismissal was unfair
30th April 1976
Page 30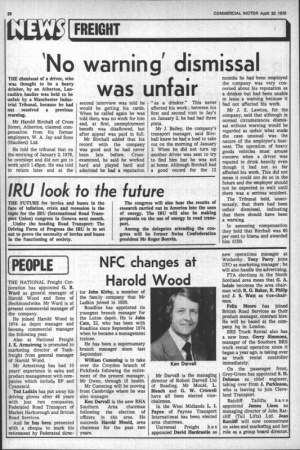 Page 30, 30th April 1976 —
'No warning' dismissal was unfair
Close
THE dismissal of a driver, who was thought to be a heavy drinker, by an Atherton, Lancashire, haulier was held to be unfair by a Manchester Industrial Tribunal, because he had not received a previous warning.
Mr Harold Birchall of Cross Street, Atherton, claimed compensation from his former employers, W. A. Jay and Sons (Hauliers) Ltd.
He told the tribunal that on the morning of January 2, 1976, he overslept and did not get to work until 1.45pm. He was 'told to return later and at the second interview was told he would be getting his cards. When he called again he was told there was no work for him and, at first, unemployment benefit was disallowed, but after appeal was paid in full.
Mr Birchall added that his record with the company was good and he had never been late before. Crossexamined, he said he worked hard and played hard and admitted he had a reputation "as a drinker." This never affected his work ; between his first and second visit to Jay's on January 2, he had had three pints.
Mr J. Bailey, the company's transport manager, said Birchall knew he had a load to take out on the morning of January 2. When he did not turn up another driver was sent to try to find him but he was not at home. Although Birchall had a good record for the 12 months he had been employed the company was very concerned about his reputation as a drinker but had been unable to issue a warning because it had not affected his work.
Mr J. S. Lawton, for the company, said that although in normal circumstances dismissal without warning would be regarded as unfair, what made the case unusual was the nature of the employer's business. The operation of heavy goods vehicles must arouse concern when a driver was reputed to drink heavily even though it had not so far affected his work. This did not mean it could not do so in the future and the employer should not be expected to wait until there was a serious accident.
The Tribunal held, unanimously, that there had been unfair dismissal, indicating that there should have been a warning.
In assessing compensation they held that Birchall was 60 per cent to blame and awarded him E150.