SHORT HAULS
30th April 1976
Page 29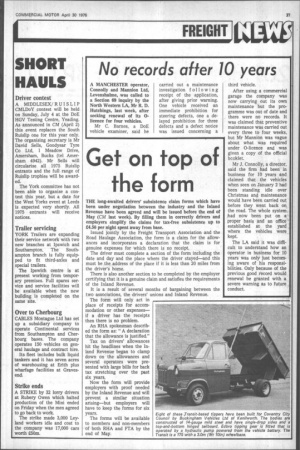 Page 29, 30th April 1976 —
SHORT HAULS
Close
Driver contest
A MIDDLESEX/RUISLIP CMLDoY contest will be held on Sunday, July 4 at the DoE HGV Testing Centre, Yeading. As announced in CM (April 2) this event replaces the South Ruislip one for this year only. The organising secretary is Mr David Sells, Goodyear Tyre Co Ltd, 1 Meadow Drive, Amersham, Bucks (tel Amersham 4942). Mr Sells will circularise all 1975 Ruislip entrants and the full range of Ruislip trophies will be awarded.
The York committee has not been able to organise a contest this year, but a date for the West Yorks event at Leeds is expected very shortly. All 1975 entrants will receive notices.
Trailer servicing
YORK Trailers are expanding their service network with two new branches at Ipswich and Southampton. The Southampton branch is fully equipped to fit third-axles and special trailers.
The Ipswich centre is at present working from temporary premises. Full spares service and service facilities will be available when the new building is completed on the same site.
Over to Cherbourg
CABLES Montague Ltd has set up a subsidiary company to operate Continental services from Southampton and Cherbourg bases. The company operates 150 vehicles on general haulage and contract hire.
Its fleet includes bulk liquid tankers and it has seven acres of warehousing at Erith plus wharfage facilities at Gravesend.
Strike ends
A STRIKE by 32 lorry drivers at Rubery Owen which halted production of the Mini ended on Friday when the men agreed to go back to work.
The strike made 3,000 Leyland workers idle and cost to the company was 17,000 cars worth £50m.