No records after 10 years
30th April 1976
Page 29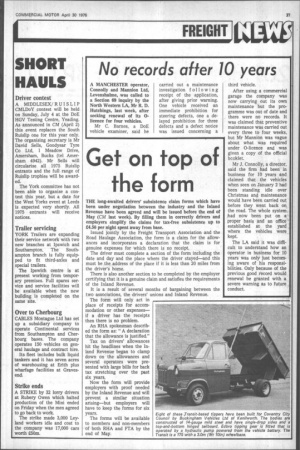 Page 29, 30th April 1976 —
No records after 10 years
Close
A MANCHESTER operator, Connolly and Mannion Ltd, Levenshulme, was called to a Section 69 inquiry by the North Western LA, Mr R. D. Hutchings, last week, after seeking renewal of its 0licence for four vehicles.
Mr C. Barnes, a DoE vehicle examiner, said he carried out a maintenance investigation following receipt of the application, after giving prior warning. One vehicle received an immediate prohibition for steering defects, one a delayed prohibition for three defects and a defect notice was issued concerning a third vehicle.
After using a commercial garage the company was now carrying out its own maintenance but the programme was out of date and there were no records. It was claimed that preventive maintenance was carried out every three to four weeks, but Mr Mannion was vague about what was required under 0-licence and was given a copy of the official bccklet.
Mr J. Connolly, a director, said the firm had been in business for 10 years and claimed that the vehicles when seen on January 2 had been standing idle over Christmas and maintenance would have been carried out before they went back on the road. The whole system had now been put on a proper basis and an office established at the yard where the vehicles were kept.
The LA said it was difficult to understand how an operator in business for 10 years was only just becoming aware of his responsibilities. Only because of the previous good record would renewal be granted with a severe warning as to future conduct.