costing
30th April 1971
Page 53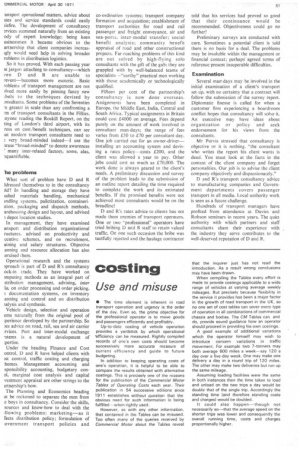 Page 53, 30th April 1971 —
costing
Close
Use and misuse
• The time element is inherent in road transport operation and urgency is the order of the day. Even so, the prime objective for the professional operator is to move goods and passengers efficiently and profitably.
Up-to-date costing of vehicle operation provides a yardstick by which operational 'efficiency can be measured. Rightly compiled records of one's own costs should become successively more accurate measure of current efficiency and guide to future budgeting.
In addition to keeping operating costs of one's operation, it is helpful to be able to compare the results obtained with alternative costings. This is precisely one of the reasons for the publication of the Commercial Motor Tables of Operating Costs each year. Their publication in 54 successive editions since 1911 establishes without question that the obvious need for such information is being fulfilled—when rightly used.
However, as with any other information. that contained in the Tables can be misused. Too often many of the queries received by Commercial Motor about the Tables reveal that the inquirer just has not read the introduction. As a result wrong conclusions may have been drawn.
When compiling the Tables every effort is made to provide costings applicable to a wide range of vehicles at varying average weekly mileages. But precisely because flexibility in the service it provides has been a major factor in the growth of road transport in the UK, so no one set of cost tables can cover every type of operation in all combinations of commercial chassis and bodies. The CM Tables can, and do, provide sound guidance how an operator should proceed in providing his own costings.
A good example of additional variations which the operator himself may wish to introduce concern variations in traffic movement. For example two 7-tonners may both average 600 miles a week—say 120 a day over a five-day week. One may make one delivery a day in a round trip of 120 miles. The other may make two deliveries but run up the same mileage.
Assuming loading facilities were the same in both instances then the time taken to load and unload on the two trips a day would be double that of the single trip. Accordingly the standing time land therefore standing costs and charges) would be doubled.
It could also happen—though not necessarily so—that the average speed on the shorter trips was lower and consequently the overall running time, costs and charges proportionally higher.