L I am in some doubt as to the exact
30th April 1971
Page 51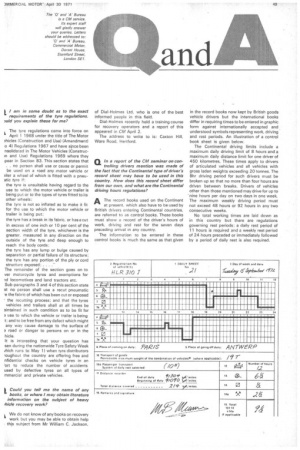 Page 51, 30th April 1971 —
L I am in some doubt as to the exact
Close
requirements of the tyre regulations. )uld you explain these for me?
The tyre regulations came into force on April 1 1968 under the title of The Motor ahicles (Construction and Use) (Amendment) o 4) Regulations 1967 and have since been nsolidated in The Motor Vehicles (Construcin and Use) Regulations 1969 where they pear in Section 83. This section states that . . no person shall use or cause or permit be used on a road any -motor vehicle or ailer a wheel of which is fitted with a pneuatic tyre if: the tyre is unsuitable having regard to the use to which the motor vehicle or trailer is being put or to the types of tyres fitted to its other wheels; the tyre is not so inflated as to make it fit for the use to which the motor vehicle or trailer is being put: the tyre has a break in its fabric, or has a cut in excess of one inch or 10 per cent of the section width of the tyre, whichever is the greater, measured in any direction on the outside . of the tyre and deep enough to reach the body cords; the tyre has any lump or bulge caused by separation or partial failure of its structure; the tyre has any portion of the ply or cord
structure exposed.
The remainder of the section goes on to ver motorcycle tyres and exemptions for Id locomotives and land tractors etc. Sub-paragraphs 3 and 4 of this section state at no person shall use a recut pneumatic .e the fabric of which has been cut or exposed
• the recutting process; and that the tyres vehicles and trailers shall at all times be aintained in such condition as to be fit for a use to which the vehicle or trailer is being t; and to be free from any defect which might any way cause damage to the surface of a road or danger to persons on or in the hide.
It is interesting that your question has sen during the nationwide Tyre Safety Week Mich runs to May 1) when tyre distributors -oughout the country are offering free and nfidential checks on vehicle tyres in an 'on to reduce the number of accidents used by defective tyres on all types of mmercial and private vehicles.