In a report of the CM seminar on con trolling
30th April 1971
Page 51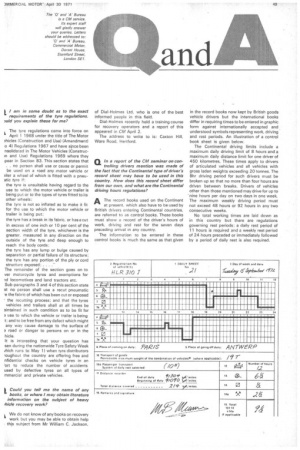 Page 51, 30th April 1971 —
In a report of the CM seminar on con trolling
Close
drivers mention was made of the fact that the Continental type of driver's record sheet may have to be used in this country. How does this record sheet differ from our own, and what are the Continental driving hours regulations?
AThe record books used on the Continent
at present, which also have to be used by British drivers entering Continental countries, are referred to as control books. These books must show a record of the driver's hours of work, driving and rest for the seven days preceding arrival in any country.
The information to be entered in these control books is much the same as that given in the record books now kept by British goods vehicle drivers but the international books differ in requiring times to be entered in graphic form against internationally accepted and . understood symbols representing work, driving and rest periods. An illustration of a control book sheet is given below.
The Continental driving limits include a maximum daily driving limit of 8 hours and a maximum daily distance limit for one driver of 450 kilometres. These times apply to drivers of articulated vehicles and all vehicles with gross laden weights exceeding 20 tonnes. The 8hr driving period for such drivers must be broken up so that no more than four hours are driven between breaks. Drivers of vehicles other than those mentioned may drive for up to 'nine hours per day on two days in one week. The maximum weekly driving period must not exceed 48 hours or 92 hours in any two consecutive weeks.
No total working times are laid down as in this country but there are regulations governing rest periods: a daily rest period of 11 hours is required and a weekly rest period of 24 hours preceded or immediately followed by a period of daily rest is also required.