bird's eye view by the Hawk I Speed read ght
30th April 1971
Page 43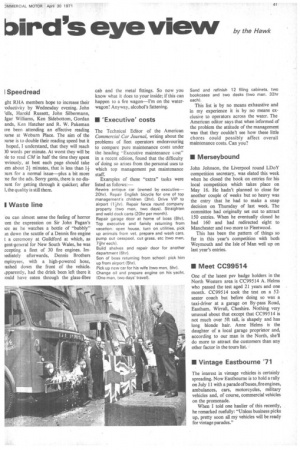 Page 43, 30th April 1971 —
bird's eye view by the Hawk I Speed read ght
Close
RHA members hope to increase their 'oductivity by Wednesday evening. John 'ells, Harold Russett, John Silbermann, igar Williams, Ken Sidebottom, Gordan ands, Ken Hatcher and R. W. Pakeman we been attending an effective reading )urse at Woburn Place. The aim of the mrse is to double their reading speed but it hoped, I understand, that they will reach )0 words per minute. At worst they will be )1e to read CM in half the time they spent -eviously, at best each page should take em about 21 minutes, that is less than 1-1 )urs for a normal issue—plus a bit more lie for the ads. Sorry gents, there is no dis)unt for getting through it quicker; after
the quality is still there.
I Waste line
'ou can almost sense the feeling of horror onn the expression on Sir John Pagan's ice as he watches a bottle of "bubbly" in down the scuttle of a Dennis fire engine t a ceremony at Guildford at which, as gent-general for New South Wales, he was ceepting a fleet of 30 fire engines. Imiediately afterwards, Dennis Brothers mployees, with a high-powered hose, rashed down the front of the vehicle. 43parently, had the drink been left there it meld have eaten through the glass-fibre cab and the metal fittings. So now you know what it does to your inside; if this can happen to a fire wagon—I'm on the waterwagon! Anyway, alcohol's fattening.
• 'Executive' costs
The Technical Editor of the American Commercial Car Journal, writing about the problems of fleet operators endeavouring to compare pure maintenance costs under the heading "Executive maintenance cost" in a recent edition, found that the difficulty of doing so arises from the personal uses to which top management put maintenance staff.
Examples of these "extra" tasks were listed as follows:— Rewire antique car (owned by executive20hr). Repair English bicycle for one of top management's children (3hr). Drive VIP to airport (1 hr). Repair fence round company property two men, two days). Straighten and weld dock carts (20hr per month).
Repair garage door at home of boss (8hr). Top executive and family returning from vacation: open house, turn on utilities, pick up animals from vet, prepare and wash cars. pump out cesspool, cut grass, etc (two men, 7i-hr each).
Build shelves and repair door for another department (6hr).
Son of boss returning from school: pick him up from airport (5hr).
Pick up new car for his wife (two men, 5hr). Change oil and prepare engine on his yacht. (One man, two days' travel). Sand and refinish 12 filing cabinets, two bookcases and two desks (two men, 32hr each).
This list is by no means exhaustive and in my experience it is by no means exclusive to operators across the water. The American editor says that when informed of the problem the attitude of the management was that they couldn't see how these little chores could possibly affect overall maintenance costs. Can you?
▪ Merseybound
John Johnson, the Liverpool round LDoY competition secretary, was elated this week when he closed the book on entries for his local competition which takes place on May 16. He hadn't planned to close for another couple of weeks but so heavy was the entry that he had to make a snap decision on Thursday of last week. The committee had originally set out to attract 150 entries. When he eventually closed he had 160 and had redirected eight to Manchester and two more to Fleetwood.
This has been the pattern of things so far in this year's competition with both Weymouth and the Isle of Man well up on last year's entries.
• Meet CC99514
One of the latest psv badge holders in the North Western area is CC99514 A. Helms who passed the test aged 21 years and one month. CC99514 took the test on a 52seater coach but before doing so was a taxi-driver at a garage on By-pass Road, Eastham, Wirrall, Cheshire. Nothing very unusual about that except that CC99514 is not much over 5ft tall, is shapely and has long blonde hair. Anne Helms is the daughter of a local garage proprietor and, according to our man in the North, she'll do more to attract the customers than any other factor in the tours list.
• Vintage Eastbourne '71
The interest in vintage vehicles is certainly spreading. Now Eastbourne is to hold a rally on July 11 with a parade of buses, fireengines, ambulances, cars, motorcycles, military vehicles and, of course, commercial vehicles on the promenade.
When I told one haulier of this recently, he remarked ruefully: "Unless business picks up, pretty soon all my vehicles will be ready for vintage parades."