meet
30th April 1971
Page 36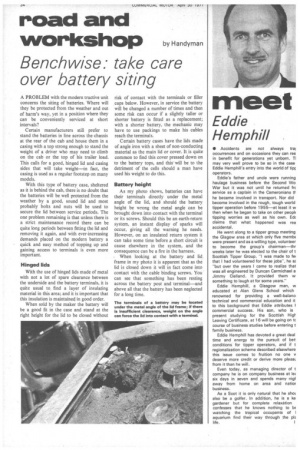 Page 36, 30th April 1971 —
meet
Close
Eddie Hemphill
• Accidents are riot always trai occurrences and on occasions they cart res in benefit for generations yet unborn. T may very well prove to be so in the case Eddie Hemphill's entry into the world Of tipr operators.
Eddie's father and uncle were running haulage business before the Second Wo War but it was not until he returned frc service as a captain in the Cameronians th he became involved in transport. Nor did become involved in the rough, tough world tipper operation before 1955—at least it w then when he began to take on other peopli tipping worries as well as his own. Eck claims that what happened was rea accidental.
He went along to a tipper group meeting the Glagow area at which only five memb( were present and as a willing type, volunteer to become the group's chairman—thr weeks later he was elected to the chair of t Scottish Tipper Group. "I was made to feo that I had volunteered for these jobs", he sz "but over the years I came to realize that was all engineered by Duncan Carmichael a Jimmy Clelland. It provided them w something to laugh at for some years."
Eddie Hemphill, a Glasgow man, w educated at Alan Glens School which renowned for providing a well-balane technical and commercial education and it to this background that Eddie attributes commercial success. His son, who is present studying for the Scottish High Leaving Certificate, at 16 will be going on tc course of business studies before entering t family business.
Eddie Hemphill has devoted a great deal time and energy to the pursuit of bet conditions for tipper operators, and if t regionalization scheme described elsewhere this issue comes to fruition no one v deserve more credit or derive more pleast from it than he will.
Even today, as managing director of t company he is on company business at let six days in seven and spends many nigt away from home on area and natio( business.
As a Scot it is only natural that he shot also be a golfer. In addition, he is a ke gardener but for complete relaxation confesses that he knows nothing to IN watching the tropical occupants of i aquarium find their way through the pit life.