know the law
30th April 1971
Page 35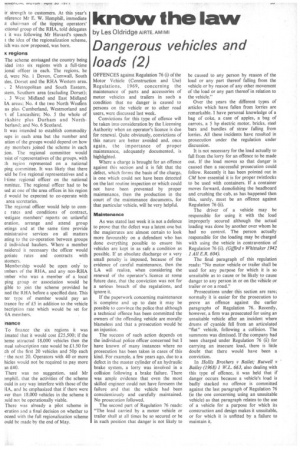 Page 35, 30th April 1971 —
know the law
Close
,
by Les Oldridge AIRTE, AMIMI
Dangerous vehicles and loads (2)
OFFENCES against Regulation 76 (i) of the Motor Vehicle (Construction and Use) Regulations, 1969, concerning the maintenance of parts and accessories of motor vehicles and trailers in such a condition that no danger is caused to _persons on the vehicle or to other road users, were discussed last week.
Convictions for this type of offence will be taken into consideration by the Licensing Authority when an operator's licence is due for renewal. Quite obviously, convictions of this nature are better avoided and, once again, the importance of proper maintenance, adequately documented, is highlighted.
Where a charge is brought for an offence against this section and it is felt that the defect, which forms the basis of the charge, is one which could not have been detected on the last routine inspection or which could not have been prevented by proper maintenance, then the production in the court of the maintenance documents, for that particular vehicle, will be very helpful.
Maintenance As was stated last week it is not a defence to prove that the defect was a latent one but the magistrates are almost certain to look more favourably on a defendant who has done everything possible to ensure his vehicles are kept in as safe a condition as possible. If an absolute discharge or a very small penalty is imposed, because of the evidence of careful maintenance, then the LA will realize, when considering the renewal of the operator's, licence at som,e future date, that the conviction was not for a serious breach of the regulations, and ignore it.
If the paperwork concerning maintenance is complete and up to date it may he possible to convince the police that although a technical offence has been committed the owners of the offending vehicle are morally blameless and that a prosecution would be an injustice.
The success of such action depends on the individual police officer concerned but I have known of many instances where no prosecution has been taken in cases of this kind. For example, a few years ago, due to a defect in the master cylinder of an hydraulic brake system, a lorry was involved in a collision following a brake failure. There was ample evidence that even the most skilled engineer could not have foreseen the failure and that the vehicle had been conscientiously and carefully maintained. No prosecution followed.
The second part of Regulation 76 reads: "The load carried by a motor vehicle or trailer shall at all times be so secured or be in such position that danger is not likely to be caused to any person by reason of the load or any part thereof falling from the vehicle or by reason of any other movement of the load or any part thereof in relation to the vehicle."
Over the years the different types of articles which have fallen from lorries are remarkable. I have personal knowledge of a bag of coke, a case of apples, a bag of carrots, a 5 hp electric motor, bricks, steel bars and bundles of straw falling from lorries. All these incidents have resulted in prosecution under the regulation under discussion.
It is not necessary for the load actually to fall from the lorry for an offence to be made out. If the load moves so that danger is caused then a successful prosecution could follow. Recently it has been pointed out in CM how essential it is for proper twistlocks to be used with containers. If a container moves forward, demolishing the headboard and crushing the cab, as has happened then this, surely, must be an offence against Regulation 76 (ii).
The driver of a vehicle may be responsible for using it with the load improperly secured although the actual loading was done by another over whom he had no control. The person actually responsible for the loading may be charged with using the vehicle in contravention of Regulation 76 (ii). (Giffird v Whittaker 1942 1 All E.R. 604).
The final paragraph of this regulation reads: "No motor vehicle or trailer shall be used for any purpose for which it is so unsuitable as to cause or be likely to cause danger to any person in or on the vehicle or trailer or on a road."
Prosecutions under this section are rare; normally it is easier for the prosecution to prove an offence against the earlier paragraphs of Regulation 76., Recently, however, a firm was prosecuted for using an unsuitable vehicle after an incident where drums of cyanide fell from an articulated "flat" vehicle, following a collision. The summons was dimissed. If the company had been charged under Regulation 76 (ii) for carrying an insecure load, there is little doubt that there would have been a conviction.
In Hollis Brothers v Ballet; Butwell v Bailey (1968) 1 W.L. 6-63, also dealing with this type of offence, it was held that if danger occurs because a vehicle's load is badly stacked no offence is committed against the last paragraph of Regulation 76 (ie the one concerning using an unsuitable vehicle) as that paragraph relates to the use of a vehicle for a purpose for which its construction and design makes it unsuitable, or for which it is unfitted by a failure to maintain it.