Where the money went
30th April 1971
Page 32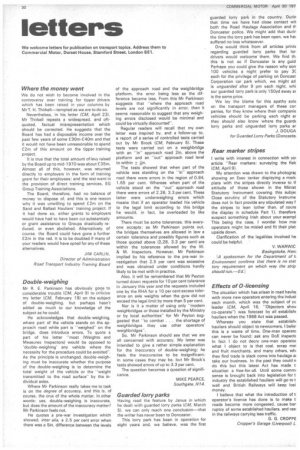 Page 32, 30th April 1971 —
Where the money went
Close
We do not wish to become involved in the controversy over training for tipper drivers which has been raised in your columns by M r T. H. Thirkell—tempted as we are to do so.
Nevertheless, in his letter (CM, April 23). Mr Thirkell repeats a widespread, and oftquoted, factual misrepresentation which should be corrected. He suggests that the Board has had a disposable income over the past few years of some £30m-£40m and that it would not have been unreasonable to spend £2m of this amount on the tipper training project.
It is true that the total amount of levy raised by the Board up to mid-1970 was about £35m. Almost all of this, however, was returned directly to employers in the form of training grant for their employees: and the rest went in the provision of direct training services, EG Group Training Associations.
The Board, therefore, had no balance of money to dispose of, and this is one reason why it was unwilling to spend 2m on the Sand and Ballast Hauliers' training project. If it had done so, either grants to employers would have had to have been cut substantially or grant assistance to Groups drastically reduced, or even abolished. Alternatively, of course, the Board could have gone a further £2m in the red. It is to be doubted if many of your readers would have opted for any of these alternatives.
JIM CARLIN, Director of Administration Road Transport Industry Training Board