Rear marker stripes
30th April 1971
Page 32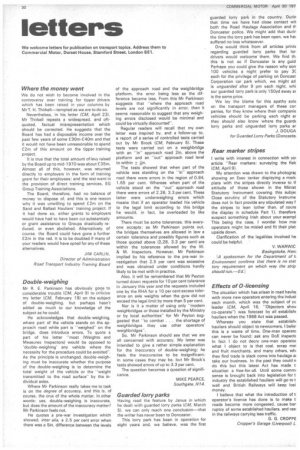 Page 32, 30th April 1971 —
Rear marker stripes
Close
I write with interest in connection with yoi article "Rear markers: surveying the fiel( (CM. April 9).
My attention was drawn to the photograr showing an Esso tanker displaying a mark. plate with the stripes directly inverse to tl attitude of those shown in the Minist Statutory Instrument covering this subjec Close scrutiny of the Statutory Instrume does not in fact provide any stipulated way f the stripes to lean (other than, of cours the display in schedule Part 1), therefore suspect something Irish about your exampl This being the case. I wonder how mai operators might be misled and fit their plat, upside down.
Clarification of the legalities involved he could be helpful.
V. WARWIC Basingstoke, Ham (A spokesman for the Department of ti Environment confirms that there is no stet tory requirement on which way the strip should run.—Ed,