Guarded lorry parks
30th April 1971
Page 32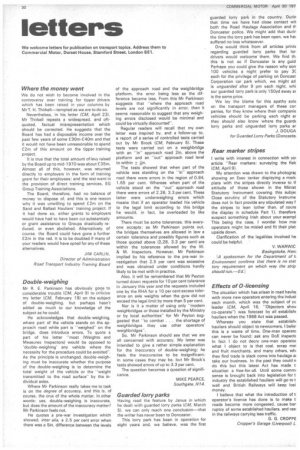 Page 32, 30th April 1971 —
Guarded lorry parks
Close
Having read the feature by Janus in which he dealt with guarded lorry parks (CM, March 5), we can only reach one conclusion—that the writer has never been to Doncaster.
This lorry park has been in operation for eight years and, we believe, was the first guarded lorry park in the country. Dunn that time we have had close contact wit both the Road Haulage Association and Doncaster police. We might add that durir the time the lorry park has been open, we ha■ suffered no loss whatsoever.
One would think from all articles printE regarding guarded lorry parks that lor drivers would welcome them. We find th. this is not so if Doncaster is any guid Perhaps you could give the reason why son 100 vehicles a night prefer to pay 3( each for the privilege of parking on Doncast Corporation car park which, we might ad is unguarded after 9 pm each night, whi our guarded lorry park is only 1500 away at is the same price.
We lay the blame for this apathy sole on the transport managers of these cor panics, for they know where their companie vehicles should be parking each night ar they should also know where the guard( lorry parks and unguarded lorry parks ar J. DOUGA for Guarded Lorry Parks (Doncastei